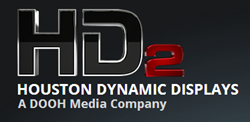 Digital signage is inherently green and economical.
Houston, TX (PRWEB) September 28, 2013
Leading digital signage firm Houston Dynamic Displays, also referred to as HD2, is proud to announce its plans to join Paperless2013 in its effort to eliminate the need for paper in the workplace.
Information technology expert and founder of HD2, Hussain Ali, says the commitment to going paperless is a big step forward on the path to fulfilling his goals for the company.
"It's really important that every move we make as a business is one that represents not only our dedication to delivering exceptional products, but also our commitment to the family of eco-friendly organizations and individuals who inspire these green efforts," says Ali.
Besides the stunning visual aesthetics, one of the many benefits of digital signage is its ability to quickly and easily disseminate information to large audiences. By implementing this technology you significantly decrease paper usage.
"Digital signage is inherently green and economical," says Ali. "It cuts costs by immediately removing the need for traditional paper communication. The endless amount of money spent on paper, ink and shipping would go towards signage set at an affordable, finite price. You'd no longer have to think about continuously spending money on paper announcements, pamphlets, advertisements and the like."
HD2 provides innovative services for the development of digital signage, kiosk and digital out-of-home network solutions, and offers 24-hour customer service.
Contact:
Fabiana Flores
press(at)houstondd(dot)com
Ph: 866.432.4868
SA4i applauds the efforts of HD2 to eliminate the need for paper in the workplace and is proud to represent HD2 as an emerging community leader organization.
SA4i is an online marketing group representing a wide variety businesses and medical practices. For further information regarding the services of SA4i please contact SA4i at 281-661-8900 or visit the SA4i (Strategic Advisors for the Internet) website.