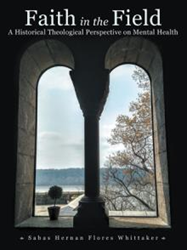 NEW YORK (PRWEB) September 05, 2018
Following the 30-plus years he spent working, studying and researching the mental health field, Sabas Hernan Flores Whittaker found that when it came to actually knowing about psychiatric disabilities and the mentally ill, a very limited knowledge was available throughout their communities. In particular, he found that even more alarming, as he became more involved in the churches and realize such lack being even more prevalent within the communities of faith. These findings inspired Whittaker to write "Faith in the Field: A Historical Theological Perspective on Mental Health" (published by Archway Publishing), a multidisciplinary study that considers numerous aspects of mental health treatment from various perspectives, seeking a unified approach that could benefit all. For more details about the book, please visit https://www.amazon.com/Faith-Field-Historical-Theological-Perspective/dp/1480862762
The book provides a historic, sociological, theological and research-based perspective on the treatment and study on mental health. It points out the challenges within the field and confronts the political, socioeconomic, theological, scientific, and cultural adversities facing advances in mental health treatment.
The book also attempts to help eliminate the stigma associated with mental illness and those who suffer from it. Combining approaches from psychiatry, psychology, sociology, theology and nursing, this study aims for a middle ground upon which to build a levee that might ameliorate existing barriers to treatment.
"Faith in the Field: A Historical Theological Perspective on Mental Health" aims to break down the long held misbelief and misconceptions that have allowed communities to hate, mistreat, discriminate and abuse the mentally ill. It educates the lay individuals, whom still lack the depth and human side toward the understanding of the issues that truly surrounds mental health and the mentally ill.
"Faith in the Field: A Historical Theological Perspective on Mental Health"
By Sabas Hernan Flores Whittaker
Softcover | 8.25 x 11in | 340 pages | ISBN 9781480862760
E-Book | 340 pages | ISBN 9781480862777
Available at Amazon and Barnes & Noble
About the Author
Sabas Hernan Flores Whittaker was born in Puerto Cortes, Honduras, Central America. He has previously written and published the books titled "Vestiges of A journey," "Africans In The Americas, Our Journey Throughout The World," "Away From The Field," "Tears of Joy Peace and Harmony While The Fire Burns Within" and "Songs To Valentines, Songs to Love, Romance in poetry." He has lectured at the University of Syracuse, Trinity College, University of Connecticut, Eastern Connecticut State University and Central Connecticut State University. In years pass, he has also lectured and presented his poetry at various elementary, high schools, churches and community, social gatherings throughout the country. He has also written and produced two original stage plays titled "Don't Look Down On Your Brother if You're Not Going To Pick Him Up" and "Our Journey." Additionally, to being an author, he is a graphic artist, music composer and an active member with the American Society of Composers Authors and Publishers, since 1991. Whittaker is a father of three grown children and grandfather to two grandchildren. He now lives between Connecticut and New York City, with his wife, the Rev. Dr. Damaris Whittaker.
Simon & Schuster, a company with nearly ninety years of publishing experience, has teamed up with Author Solutions, LLC, the leading self-publishing company worldwide, to create Archway Publishing. With unique resources to support books of all kind, Archway Publishing offers a specialized approach to help every author reach his or her desired audience. For more information, visit http://www.archwaypublishing.com or call 888-242-5904.