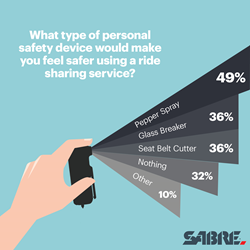 CHICAGO (PRWEB) August 29, 2019
SABRE, the leading brand in personal safety products, recently conducted an omnibus survey to determine how increasing safety concerns are impacting ride share services. According to the survey, four out of ten people use ride share services, and of those people, sixty-eight percent indicated that they worry about their personal safety while using such services.
While the gig economy offers unprecedented flexibility and value to consumers and entrepreneurs, it also has given rise to new worries about personal safety as strangers are put into close and relatively unregulated proximity to other strangers. Nowhere is that concern greater than in the ride share industry. There is, of course, the risk of physical assault, whether you are the passenger or the driver. But that isn't the only issue when using ride share.
The survey reflected these concerns:

75 percent of women and 61 percent of men worry about personal safety on ride shares
Men are twice as likely to worry about a car accident than they are a personal attack while women are twice as likely to worry about a personal attack than a car accident
Both men and women would feel more confident if they were in possession of a personal safety device
Almost 90 percent of those who use ride share but worry about their safety would feel safer if they had a personal safety device
50 percent of those who do not use ride sharing services would be more likely to do so if either they or their driver had a personal safety device
"We take our role as personal safety experts very seriously and design products that help make individuals feel empowered to continue living their lives and doing things they love, "said David Nance, CEO of SABRE and personal safety expert. "As society evolves, so do our safety needs. SABRE's 3-in-1 Safe Escape Automotive Tool incorporates a seat belt cutter, window breaker and pepper gel in a single device – addressing the very concerns a majority of people have when using ride sharing services. We knew this would be a valuable tool for road trips and travelers, but this survey confirms it would also make people, both riders and drivers, more confident on their daily commute or a night out with friends."
Contact Marisa Weich at marisaw@gunpowderinc.com for more information about SABRE, the recent ride share survey and the company's full line of personal safety products.
About Safe Escape 3-in-1 Automotive Tool
The Safe Escape Automotive Tool is a compact 3-in-1 device that includes maximum strength pepper gel, a seat belt cutter and a car window glass breaker, all in one convenient and practical tool. The maximum strength pepper gel within the Safe Escape sprays up to 12 feet (4 meters), 20 percent farther than traditional pepper spray with virtually no blowback – ensuring the gel hits the target and only affects what it directly contacts. The belt cutter easily cuts seat belts in seconds, while the window glass breaker's durable stainless-steel tip punctures glass for a speedy escape.
ABOUT SABRE®
SABRE, the #1 pepper spray brand trusted by police and consumers worldwide, provides best-in-class personal safety, home security, and law enforcement products to maximize safety. The company's law enforcement grade pepper sprays provide consumers with the same superior quality chosen exclusively by the New York Police Department, Los Angeles County Sheriff's Department, US Department of Defense and thousands of law enforcement agencies worldwide. Each batch of pepper spray is tested in SABRE's HPLC lab to ensure strength and effectiveness. SABRE is family owned and operated with more than four decades of experience. The company's pepper spray is made in the U.S.A. and ISO 9001:2015 certified. Stay informed by following SABRE on Facebook at @SABREredpepperspray, on Twitter @SABRERed, on Instagram @SABRESafety or by visiting http://www.SABREred.com.