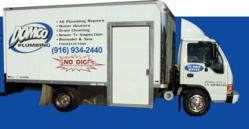 We are big advocates of tankless water heater installation in Sacramento
Sacramento, CA (PRWEB) August 01, 2013
Sacramento tankless water heater installation is one of the many ways homeowners can be more cost conscience. Tankless water heaters save money because they reduce the amount of energy required to maintain desirable hot water temperatures. With traditional tanked heaters a large amount of water is continuously heated whether it is being used or not. In Sacramento winters are cold and having water heated all of the time creates a waste of energy. Tankless water heaters only heat water as it is being used. So the time that the hot water is off Sacramento homeowners can be saving money.
In addition to saving money tankless water heater installation in Sacramento is also greener. This is because the energy savings associated with on demand water heaters results in less of a need to produce electricity. "We are big advocates of tankless water heater installation in Sacramento. The energy savings are outstanding which makes us feel like we are helping people become more environmentally conscience. We figure if we can help make a difference in the environment while delivering our customers the highest level of customer service it is a win situation," says Dominic of Domco Plumbing.
In addition to being better for the environment, these Sacramento plumbers also say they require less maintenance than traditional tanked units. "Since there isn't a tank full of water constantly corroding the tank there are a lot less problem with on demand heaters. They still require some maintenance but the overall life span of the unit is longer," says Dominic.
From now until December 31, 2013 these plumbers in Sacramento are offering consumers a $50 rebate on tankless water heater installation in Sacramento. This rebate comes directly from them and is an incentive to get people to upgrade. "We are so passionate about tankless water heaters that we decided to come up with a way to help people get one. We decided this new rebate program was a great way to do it. From now until after Thanks Giving Sacramento area homeowners can contact us for a new tankless water heater completely installed and receive a $50 rebate," says Dominic.
Some people upgraded to tankless water heaters many years ago and may now be noticing that their units need maintenance or fixing. "We are Sacramento water heater repair experts and we always try to fix instead of replace. We encourage people to give us a call and describe their problem," says Dominic.
In addition to being tankless water heater experts Domco Plumbing also specializes in providing a full line of plumbing services including drain cleaning, sewer repair in Sacramento and trenchless sewer replacement. "We are always providing some type of plumbing coupon for plumbing repair service in Sacramento and surrounding areas. People should give us a call for our latest specials," says Dominic.
To learn more about the plumbing experts at Domco Plumbing please visit their website, see their informative online videos or read their press releases. To take advantage of the new tankless water heater installation rebate being offered to home owners please give them a call today.
Domco Plumbing Inc
Sacramento, CA 95816‎
(916) 972-1006