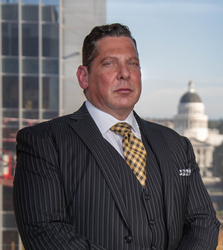 My client is overjoyed at the outcome, and I'm very pleased for him.
SACRAMENTO, Calif. (PRWEB) May 18, 2021
The Rosenfeld Law Firm announced today that Case # CR2020-4225 in Yolo County Superior Court, involving a charge against a client of being a felon in possession of a firearm, was dismissed after California Criminal Defense Attorney Ken Rosenfeld successfully demonstrated that mitigating circumstances contributed to his client's gun possession.
According to [court documents], Mr. Burnham was charged with being a Felon in Possession of a Firearm (PC §29800); additionally, he was charged with a violation of his probation. The criminal charge against Burnham was dismissed, and the sentence for probation violation was reduced to a sentence of 10 days of alternative sentencing.
Rosenfeld contended that Burnham had made a concerted effort to comply with the probation terms to dispose of his guns. The Yolo County District Attorney's Office was satisfied at Rosenfeld's explanation that a final gun remained unbeknownst to his client, and dismissed the new criminal charge against Burnham. Rosenfeld furthermore stated that Burnham, a tribal member of the Yocha Dehe Wintun Nation, has full support of the Tribal Council, which has agreed to be active partners in ensuring Burnham's rehabilitation.
As a result of the case dismissal, Mr. Burnham avoids a six-year sentence; in lieu of jail time, he will need to serve 10 days of alternative sentencing.
"My client had made an earnest effort to comply with the terms of his probation, and I'm glad it was possible to make this clear to the District Attorney's Office," said Rosenfeld. "Mr. Burnham is overjoyed at the outcome, and I'm very pleased for him."
About The Rosenfeld Law Firm
With offices in Sacramento and San Jose, The Rosenfeld Law Firm provides aggressive defense of a wide range of high-profile criminal defense cases. California criminal defense attorney Ken Rosenfeld defends such cases as first-degree murder and sex offense cases, and also provides DUI defense. In addition to mental health criminal defense, The Rosenfeld Law Firm also practices federal criminal defense and juvenile defense, as well as appellate law and prison law. As a skilled criminal law commentator, Rosenfeld makes regular appearances on KTXL TV and FOX40's Ask An Attorney. Rosenfeld was named 2020 Litigator of the Year by the American Institute of Trial Lawyers. For more information, please contact Ken Rosenfeld directly at (916) 447-2070, or visit http://www.therosenfeldlawfirm.com.
Press release writing by WebSiteText and Proofreading Services by The Proofreaders.