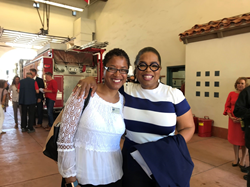 Mom, it's time for the world to hear your voice.
SACRAMENTO, Calif. (PRWEB) February 20, 2021
In 2008, while employed by the U.S. Postal Service as a Letter Carrier in Los Angeles, Meiko S. Patton's life was served a devastating blow when her 59-year-old mother was diagnosed and later died from Stage IV colon and liver cancer. After her mom's death, Meiko spiraled into a suicidal depression. (Announcing: GoFundMe for Late Mom)
One day, while contemplating suicide, the thought of a postage stamp popped into her head. That thought saved her life. "What pulled me from the depths of despair, oddly enough, was meditating on the purpose of a postage stamp. Yes, it allows your mail to be delivered, but its main purpose is to lovingly attach itself to its recipient - the letter - until its purpose in connection with it is realized. The postage stamp never gets distracted or deviates from its role. It has only one goal, a single, solitary focus and it fervently sticks to it until its mission is accomplished. The postage stamp never ever gives up.
"Shark Tank's Mark Cuban also sees the valuable lessons stamps provide as evidenced by his blog post. I wouldn't be surprised if the postage stamp became the next pet rock craze after this," Meiko quipped. Her ordeal happened over a decade ago and Meiko has been living like a postage stamp ever since. Meiko's stick-to-itiveness, much like the postage stamp, paid off when she met her longtime mentor, Oprah Winfrey at a 2018 postal event in Santa Barbara, CA.
Meiko wrote about her heart-wrenching experience in her Amazon #1 Best-Selling book, How a Postage Stamp Saved My Life: 21 Powerful Tips to Defeat Depression, Skyrocket Your Self-Confidence & Achieve Your Goals.
The second thing that helped Meiko was her mother's music. "My mother was an amazing, undiscovered singer and songwriter. Before she died, she recorded her debut single on a tape recorder titled, Book of Love. I want her music to touch and heal the world during this pandemic as it did for me. This will be my best delivery yet and the final one for my beloved mom."
As a way to say thank you for all donations, Meiko is sharing an exclusive, complimentary ClubHouse invite on her mom's GoFundMe page.