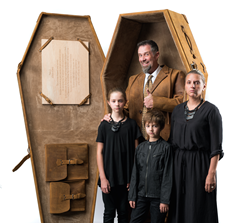 Everybody's talking about work/life balance, and that got me thinking, 'what about work/death balance'?
Fort Worth, TX (PRWEB) October 18, 2017
Dave Munson, the ostensibly healthy, middle-aged President of Saddleback Leather Co., has just completed construction on his own full-grain leather coffin that will be used to house his future corpse for all eternity, although Munson hopes the 270 pound, six-sided box will not contain his formaldehyde-bloated empty vessel for another 45 or 50 years. In the meantime, he has the coffin on display at Saddleback Leather HQ in Fort Worth.
"Everybody's talking about work/life balance, and that got me thinking, 'what about work/death balance?'" said Munson. "How are we living? What are we living for? We're all going to be dead for a lot longer than we're alive and I wanted to build something that would get people thinking about just how briefly we're all here on earth."
Most commonly associated with vampires and the cheap pine boxes of old westerns, Munson has elevated the coffin to the same standards of beauty and quality found in the bags and accessories of the entire Saddleback Leather Co. line. Inside the removable lid are two pockets for future mourners to leave letters or mementos as a way to aid in the grieving process. "It's little details like those pockets that get you thinking about how you're living your life," Munson mused. "Are they going to be stuffed with love letters, or hate mail? And there are six handles. That's got me trying to live my life in such a way that at least six able-bodied people will show up at my funeral to carry my dead body to the cemetery without my grieving widow Suzette having to hire day laborers to do it."
Munson is still undecided as to whether or not he'll offer the coffin design for sale at SaddlebackLeather.com, but at the very least, it seems to have added a certain gravity to the company's slogan - They'll Fight Over it When You're Dead.™
__________________________________________________________________
About Saddleback Leather
Saddleback Leather was founded in 2003 by Dave Munson, with a design ethos that blends timeless materials with indestructible functionality. The Saddleback Leather collection features heirloom-quality bags and accessories made with the highest quality materials, designed to exist outside the frivolity of seasonal fashion cycles. 100 year warranty. They'll fight over it when you're dead.™
###