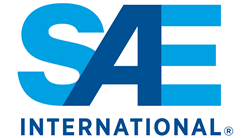 "SAE Fellows—and the contributions they make to the ongoing vibrancy of the mobility industry—warrant special recognition and our deepest reverence." Robert Ireland, 2020 SAE Fellows Committee Chair and former SAE Board Director
WARRENDALE, Pa. (PRWEB) April 29, 2021
SAE International announced today the 15 members recognized as the 2021 Class of SAE Fellows. Established in 1977, SAE Fellow status is the highest grade of membership bestowed by the organization to members from industry and academia, for which more than 750 individuals have earned the distinction since its implementation.
The SAE Fellow program honors long-term members who have made a significant impact on society's mobility technology through leadership, research and innovation. This new class of Fellows is recognized for their outstanding engineering and scientific accomplishments that have resulted in meaningful advances in automotive, aerospace and commercial vehicle technology.
"SAE Fellows—and the contributions they make to the ongoing vibrancy of the mobility industry—warrant special recognition and our deepest reverence," said Robert Ireland, 2020 SAE Fellows Committee Chair and former SAE Board Director. "There's no greater and lasting honor in the world of mobility engineering than being elected SAE Fellow. The distinction ensures that the names and impact of these individuals will forever be revered within SAE and the larger mobility engineering community."
The 2021 Class of SAE Fellows includes:

Dr. Amer Ahmad Amer, Saudi Aramco
Dr. Öivnd Andersson, Lund University
Dr. Kirby Baumgard, John Deere
Dr. Piotr Bielaczyc, Bosmal Automotive R&D Institute
Dr. Jason Richard Blough, Michigan Technological University
Mr. George Nicholas (Nick) Bullen, Northrop Grumman
Dr. David Herrin, University of Kentucky
Professor Ian K. Jennions, IVHM Centre Cranfield University
Dr. Hariharan Krishnan, General Motors
Dr. Koji Mizuno, Nagoya University
Mr. Paul Najt, General Motors
Dr. William J. Pitz, Lawrence Livermore National Lab
Dr. Steven Przesmitzki, Aramco Research Center
Dr. Sibendu Som, Argonne National Laboratory
Dr. (Charles) Richard Stone, University of Oxford
For more information on the SAE Fellows program, please visit: https://www.sae.org/participate/membership/fellows.
About SAE International
SAE International is a global association committed to advancing mobility knowledge and solutions for the benefit of humanity. By engaging nearly 200,000 engineers, technical experts and volunteers, we connect and educate mobility professionals to enable safe, clean, and accessible mobility solutions. We act on two priorities: encouraging a lifetime of learning for mobility engineering professionals and setting the standards for industry engineering. We strive for a better world through the work of our philanthropic SAE Foundation, including award-winning programs like A World In Motion® and the Collegiate Design Series™. More at http://www.sae.org.