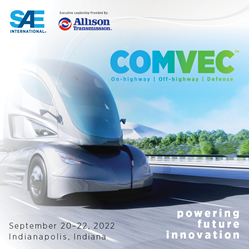 "Attendees will see the latest technology and solutions entering the commercial vehicle industry while learning how others are overcoming challenges of zero emissions, alternative fuels, electric propulsion, digital data, and connectivity."
WARRENDALE, Pa. (PRWEB) August 03, 2022
SAE International's COMVEC™ 2022 is the only North American forum that focuses on vehicles and equipment spanning the on-highway, off-highway, agricultural, construction, industrial, military and mining sectors. The event will take place September 20-22, 2022, in Indianapolis, Ind. Industry experts will share insight on the latest commercial advancements in powertrain diversification, electrification and charging strategies, connected digital engineering and the future of commercial vehicle transportation.
COMVEC is proud to host commercial vehicle industry-leading keynotes including:

David S. Graziosi, Chairman & Chief Executive Officer, Allison Transmission, will share his perspective on why powering future innovation is critical to the industry,
Dana J.H. Pittard, Vice President of Defense Programs, Allison Transmission, will discuss why future innovation is critical to the nation's defense.
Ameya Joshi, Director Emerging Technologies & Regulations, Corning Inc., will share insight on technologies, challenges, and opportunities of transitioning commercial vehicles to zero-impact emissions.
"SAE is excited to bring industry executives together to collaborate and problem solve at COMVEC in Indiana," said Frank Bokulich, manager of engineering events at SAE International. "Attendees will see the latest technology and solutions entering the commercial vehicle industry while learning how others are overcoming challenges of zero emissions, alternative fuels, electric propulsion, digital data, and connectivity."
COMVEC 2022 also features a Ride & Drive option, allowing attendees to see and experience the newest in commercial vehicle innovation. Vehicles on-site include a Peterbilt 579, Peterbilt 359, an ethanol-powered Class 8 Truck, and an all-electric Class 6 pick-up as well as off-highway equipment like the DANNAR 4.00. For a full list of vehicles and technologies available at the Ride & Drive, visit https://www.sae.org/attend/comvec/special-events.
To learn more visit: https://www.sae.org/attend/comvec. To register, visit: https://www.sae.org/attend/comvec/registration.
Members of the media seeking credentials, please contact pr@sae.org.
About SAE International
SAE International is a global association committed to advancing mobility knowledge and solutions for the benefit of humanity. By engaging nearly 200,000 engineers, technical experts and volunteers, we connect and educate mobility professionals to enable safe, clean, and accessible mobility solutions. We act on two priorities: encouraging a lifetime of learning for mobility engineering professionals and setting the standards for industry engineering. We strive for a better world through the work of our philanthropic SAE Foundation, including award-winning programs like A World In Motion® and the Collegiate Design Series™. More at http://www.sae.org.
###
Contact:
Jeff Laskowski
SAE International
248.925.4770
pr@sae.org