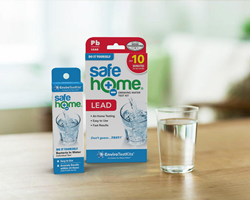 MADISON, Ind. (PRWEB) January 19, 2021
Environmental Laboratories Inc. (ELI) – one of the largest EPA-certified drinking water testing laboratories in the Midwest – proudly announces, their Safe Home Drinking Water Test Kits have launched in more than 900 Bed Bath & Beyond stores. This new national retail presence for Safe Home at Bed Bath & Beyond provides consumers a convenient way to pick up a test kit and check the quality of their drinking water. All Safe Home test kits are made in the USA!
Safe Home DIY Bacteria in Drinking Water Test Kits and Safe Home DIY Lead in Drinking Water Test Kits are currently available in all Bed Bath & Beyond retail stores in the USA and Canada. The DIY Bacteria test kit detects more than 50 different species of coliform bacteria in drinking water, down to one colony forming unit (best in the industry). The DIY Lead test kit informs the consumer of dissolved Lead concentrations in drinking water above or below the USEPA's Action Level of 0.015 ppm (parts-per-million).
Safe Home DIY City Water Test Kits (testing for 12 different parameters per kit) and Safe Home DIY Well Water Test Kits (testing for 16 different parameters per kit) are available in select Bed Bath & Beyond stores. All four are available online, through Bed Bath & Beyond.
The USEPA recommends residents test their city water supply (treated water) if they notice any unusual changes in taste, smell, or visual oddities. The EPA also recommends that owners of well water supplies (untreated water) test their drinking water annually (more often if conditions warrant). As part of the Safe Home "You Test It" platform, consumers purchase the DIY test kit of choice, collect their water sample, follow the easy-to-read instructions, and receive on-the-spot results. Safe Home also offers In-Lab test kits for the "We Test It" platform. With the Safe Home In-Lab test kits, your water is tested at their EPA-certified laboratory for exact concentrations of up to 200 different parameters. The In-Lab test kits are available for purchase at the company's website.
Chris Myers, the President and CEO of Environmental Laboratories is the Senior Scientist on staff, with 40-years of experience in testing drinking water. He is considered one of the USA's leading authorities, in this arena. Chris is committed to providing educational outreach on the importance of testing drinking water, throughout the world.
Mr. Myers says one of his greatest passions is making a difference in people's lives through science. He went on to say, "We continue to seek exceptional partnerships like the one we have with our newest retail partner – Bed Bath & Beyond. Collectively, we are determined to provide the best water testing products in the world. With partners like The Good Housekeeping Institute, Merck Laboratories and Indiana University, our scientists will continue to provide easy-to-use products with cutting edge technologies for testing drinking water on a global scale, for decades to come."
Birnur Aral, PhD, Director of the Health, Beauty and Environmental Sciences Laboratory at Good Housekeeping Institute, oversaw the testing of the four Safe Home DIY Water Test kits. She recommends them as accessible, fast, and a simple means of making qualitative assessments of water at home.
Honors and notable achievements by Safe Home:

2020: Safe Home earned the prestigious Good Housekeeping Seal for their DIY drinking water test kits.
2020: Safe Home's ULTIMATE In-Lab Drinking Water Test Kit was chosen the Best Overall Water Test Kit in the USA for 2020, by "The Spruce."
2018: Safe Home Water Quality Test Kits were named one of the "Top Ten New Products in the World" at the National Hardware Show.
2017 >2020: For every Safe Home Test Kit sold, an annual donation is provided for clean water initiatives to NFP's such as but not limited to Active Water, Water.org, Water for People, Water is Life and Charity Water.
2016 >2020: Safe Home test kits have been vetted by Merck Laboratories, Underwriter Laboratories and American Red Cross Laboratories.
Visit the company's website for more information about Safe Home Water Quality Test Kits.
###
About Environmental Laboratories
Chris Myers founded the company in 1983 as an environmental laboratory and consulting firm. ELI has grown to about 60 employees and has some of the brightest environmental scientists in North America. ELI has over 1,600 (regulated clients) across the USA and performs certified testing in the arenas of drinking water, wastewater, solid waste and more. However, drinking water sciences are ELI's primary strength, with three certified lab locations (all in Indiana).
In 2014, Mr. Myers and the ELI team launched a new division, EnviroTestKits® (ETK), which manufactures drinking water test kits under the brand name of Safe Home®, specifically designed for use by the public. Safe Home has two testing platforms and over 20 different SKU's of test kits being sold – Safe Home Do-It-Yourself test kits ("You Test It" at home) and Safe Home In-Lab test kits ("We Test It" at our certified laboratory). Safe Home presently sells DIY testing and In-Lab testing to consumers in all 50 states (USA). They also sell their DIY test kits globally (presently in twelve countries other than the USA).
About Good Housekeeping
Celebrating 135 years, Good Housekeeping (GoodHousekeeping.com) is a leading lifestyle media brand inspiring a monthly audience of 45 million readers. The Good Housekeeping Institute's state-of-the-art labs combined with Good Housekeeping's seasoned editorial talent is unparalleled. Staffed by top engineers, scientists and technology experts, the GH Institute tests and evaluates thousands of products each year for the Good Housekeeping Seal, which is among the most recognized and trusted consumer icons in the world today.