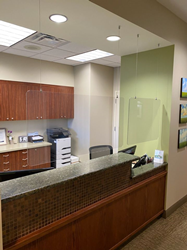 The COVID-19 crisis has forced every dentist to reexamine the way they practice — but this can be a good thing.
CLEARWATER, Fla. (PRWEB) July 14, 2020
Dr. Todd Britten and his team have resumed normal dental care and elective procedures in his Clearwater, Florida periodontal office following a reduction of services to Emergency Care only mandated in March by Governor Ron Desantis.
The American Dental Association states, "The original purpose of the dental shut down was to suppress the spread of the virus and reduce the use of protective masks, surgical gowns, and other personal protective equipment (PPE) that hospitals and clinics found in short supply."
Dr. Britten states, "Since we were able resume all of our essential treatments and procedures in early May, the COVID-19 crisis has forced every dentist to reexamine the way they practice — but this can be a good thing." He states this crisis gave his team an opportunity to reinforce what they have always done when it comes to sterilization and infection controls, as well as implement additional steps to make sure that every patient they see can be assured a safe dental experience.
Some of the changes Dr. Britten and his team made immediately is patient and staff health prescreening (eliminating any patients or staff who are sick, as well as symptom checking in the office) as well as patient-distancing through scheduling and administrative controls. Patients are also wearing masks unless undergoing treatment.
"All staff members are wearing CDC and OSHA recommended personal protective equipment, even our administrative staff to some degree. We have also developed a system in the office to maintain the highest level of sterility and disinfection. This includes treatment areas as always, but has been extended to the entire office."
Dr. Britten states his office is following infection control recommendations made by the American Dental Association (ADA), the U.S. Centers for Disease Control and Prevention (CDC) and the Occupational Safety and Health Administration (OSHA). One of his dental hygienists stated, "Our patients have remarked on the many changes we have made. We are thankful for their cooperation in this uncertain and difficult time. We will get through this together."
Britten Periodontics & Implant Dentistry is a periodontal practice offering patients personalized dental care in implant dentistry in Clearwater, Florida. Dr. Todd Britten received his Bachelor of Science & Doctorate of Dental Surgery from University of Florida, a Master's Degree and Certificate in Periodontology and Implant Dentistry; and completed extensive training at the Institute of Advanced Laser Dentistry. He is one of the only board-certified periodontists in Pinellas County. He is a member of the American Academy of Periodontology, American Dental Association, Florida Association of Periodontists, Upper Pinellas County Dental Association, Hillsborough County Dental Association, Hillsborough County Dental Research Association and Florida West Coast Dental Association.
To learn more about Dr. Britten and his dental implant or periodontal services, call (727) 586-2681 or visit http://www.brittenperio.com.