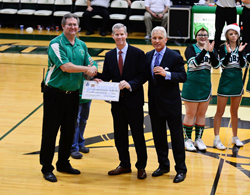 Safe Sober Prom Night encourages young people on the road to success through: 1) Awareness of the dangers, and awareness of the issues facing our young people; 2) Positive Peer Pressure; 3) Community Support
Winston-Salem, North Carolina (PRWEB) December 30, 2014
Safe Sober Prom Night, a non-profit geared towards empowering high school students to make positive choices in their lives, is pleased to announce that North Stokes High School won the "2014 Safe Sober Prom Night Participation Award". The school has not only earned bragging rights for their commitment to a safe and sober prom night, but also a $500 grant.
North Stokes had 100 percent participation in Safe Sober Prom Night this year. The managing partners of Daggett Shuler, Attorneys at Law, David Daggett and Griff Shuler, were on hand to present the school with a $500 grant at the biggest basketball game of the year for the school, the annual North Stokes v. South Stokes basketball game. The principals of both North and South Stokes high schools were present for the presentation as well as the Stokes County Superintendent, Ronnie Mendenhall, and Stokes County Sherriff, Mike Marshall.
Safe Sober Prom Night is a non-profit organization co-founded in 1991 by attorney David Daggett of Daggett Shuler, Attorneys at Law. The goal of Safe Sober Prom Night is to provide ongoing education and awareness of the dangers of drugs and alcohol, and to encourage positive peer pressure among young people. The program is currently active in the greater Triad region of North Carolina and impacts students in over 43 high schools.
Safe Sober Prom Night encourages thousands of high school students annually to sign a pledge to stay drug and alcohol free on prom night. Each student who signs a pledge card receives a t-shirt proclaiming their commitment to making positive choices. Students are given incentives to keep their commitment, including scholarships. To date, over 400,000 students have signed the Safe Sober pledge.
"It is always a pleasure to visit a school where both the students and the faculty and staff are so invested in creating an environment of positive peer pressure," said Daggett in the packed gymnasium. "It is quite the achievement to win this award once, but to win it five times in a row, each time with 100 percent participation – that is a sustained commitment to keeping our young people safe and on the right path."