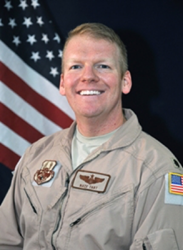 It is my goal to take care of our people and mitigate risk by sharing best practices from both inside and outside Super-Sod.
Fort Valley, GA (PRWEB) November 15, 2016
Super-Sod welcomed Nathan Tart earlier in 2016 as the new director of safety, health and training to tackle ongoing initiatives to better these practices at company locations throughout the Southeast.
"It is my goal to take care of our people and mitigate risk by sharing best practices from both inside and outside Super-Sod," Tart said.
Retired Lt. Col. Tart acquired his Bachelor of Science in human factors engineering from the U.S. Air Force Academy, obtained a master's degree in public administration from the University of Oklahoma, and earned a certificate in Industrial Safety and Health from the Georgia Institute of Technology.
During his Air Force career, Tart flew combat missions in Bosnia and Herzegovina, Iraq and Afghanistan. Before joining the Super-Sod team, he served as the installation chief of safety for Robins Air Force Base in Warner Robins, Georgia.
"We are so fortunate to have someone with Nate's experience to lead safety, something that is vitally important to us," said Ben Copeland Jr., chief operating officer of Super-Sod.
At Super-Sod, Tart cultivates a culture of safety. He is spearheading new initiatives such as creating a health and wellness program and implementing a driver safety plan for the fleet of truck drivers who deliver sod and soil throughout six states.
Tart is based out of Super-Sod's Middle Georgia office at the turfgrass farm in Fort Valley, Georgia, but his efforts influence Super-Sod employees in Georgia, North Carolina and South Carolina.
"The people are fantastic," Tart said. "I've really enjoyed traveling to the different farms and outlets while providing safety training and meeting the Super-Sod family."
Tart lives in Warner Robins, Georgia, with his wife, Emily, and two sons. In his free time, Tart coaches a youth lacrosse team and works the sidelines at Mercer University home football games. He also enjoys hunting, the outdoors and serving at his church.
Originally from Valdosta, Georgia, Tart grew up only a few miles away from where Patten Seed Company began in Lakeland, Georgia.
Super-Sod, a subsidiary of Patten Seed Company, is a family run business that employs experts in turf and horticulture. Patten Seed Company began in 1893 in Lakeland, Georgia, as a general store, providing seed for customers. Since then, Patten Seed Company has brought innovation to the turfgrass industry through production of different seed and sod varieties. Super-Sod was formed in 1980 to market sod to expanding urban markets. Super-Sod continuously develops new garden products; fosters gardening and landscaping; and seeks improvement in farming practices, technology, environmental stewardship and employee knowledge.