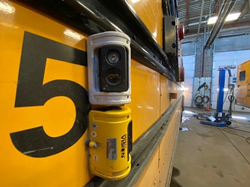 HOUSTON (PRWEB) February 03, 2021
Every day, school bus drivers and students face a multitude of dangers when traveling to and from school. Whether passing cars violate stop arm laws, students are engaged in misconduct, or a combination of both is taking place (which is common); it is essential for safety to be heightened.
This is where Safety Vision, LLC comes in, a mobile video surveillance provider. With nearly 30 years in the industry, Safety Vision has supplied mobile surveillance solutions to a vast majority of the nation. In recent years, most of the school districts in Colorado have migrated to their services. And Jeffco Public Schools, the second largest school bus fleet in Colorado, is the most recent.
In the multi-phase project, all of Jeffco's buses will be equipped with a total of 7 cameras: 4 inside the bus, 2 at the stop arm, and 1 by the boarding entrance. This ensures everything in and around the bus is recorded, which is vital should any sort of incident take place. "The priority is seeing what's going on inside the bus, such as bullying and monitoring outside activities – especially stop-arm violations," said Clint Bryer, the Director of Student Transportation at Safety Vision.
According to the National Association of State Directors of Pupil Transportation Services (NASDPTS), nearly 100,000 vehicles were observed illegally passing a school bus when the stop-arm was extended in 2019. In fact, Greg Jackson, the Executive Director of Transportation and Fleet Services at Jeffco has reported a 10% increase in violations in the last two years. "We see more impatience. People will drive up to a bus and they're in a rush, so they blow on through," said Greg when discussing the frequent recurrence.
To combat this are the external cameras, which capture all of the incident and allow the drivers to maintain their focus on the students; rather than trying to see the license plate, offending car driver, or vehicle make and model. All of the footage is easily and quickly downloaded through a wireless connection.
But just as important to ensuring the safety of students on the bus are the internal cameras, which provide complete interior coverage. When students know they are being recorded, their behavior improves, so bullying is less likely to take place. The cameras deter them. On top of that, the potential for a "he said/ she said" feud in case of an incident is diminished, as all evidence is caught on camera.
Though there is a lot that could happen on the school bus, Safety Vision continues to base their solutions on the needs of bus drivers, students, their families, and the districts – in order to relieve some of the obstacles faced. They are dedicated to enhancing safety for everyone involved and are excited for their new relationship with Jeffco Public Schools.
About Safety Vision, LLC.
Safety Vision is among the most recognized vendors of mobile video surveillance products in North America and continually enhances vehicular safety in both the private and public sectors. Safety Vision's product offering includes digital video recorders, network video recorders, hybrid video recorders, analog and IP cameras, rear vision cameras, as well as a suite of intuitive software. Safety Vision prides itself on its forward-thinking ideology, comprehensive solutions, extensive client list, and proven results. For more information, please go to http://www.safetyvision.com or call 800-880-8855.