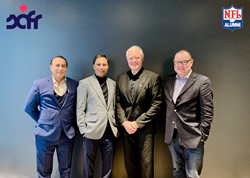 Safr's vision is to enable women and the communities in which they live and work to have better access to transportation because, historically, better mobility leads to greater freedom, economic empowerment, and opportunity
NEW YORK (PRWEB) May 21, 2020
Safr, a new ridesharing service dedicated to the safety and empowerment of women, has been named National Football League Alumni's rideshare of choice.
"Safr is proud to partner with National Football League Alumni, the most well-known and well-respected retired player organization in professional sports," said Syed Gilani, CEO of Safr. "NFL Alumni's leadership and vibrant community of retired players, families, employees and friends recognize the urgent need for increased safety and security when it comes to transportation. Safr's vision is to enable women and the communities in which they live and work to have better access to transportation because, historically, better mobility leads to greater freedom, economic empowerment, and opportunity."
The Safr app is easy to use and free to download for iPhone here: https://apps.apple.com/us/app/ride-safr/id1151088240?ls=1 and for Android here: https://play.google.com/store/apps/details?id=com.tgi.safeher.passenger.
"Safr is a new kind of rideshare service that prioritizes the protection and security of its members," stated NFL Alumni President Bart Oates. "The global movement toward women's empowerment and better transportation for all—with a focus on serving women, children and the elderly—is perfectly aligned with the mission of equality and civility that the National Football League Alumni is known for. Unlike other rideshare options, Safr provides a secure environment for its female passengers and drivers alike, where security precautions have been built into the process. Our members, who include thousands of retired players, coaches, front office executives, spouses, cheerleaders, and avid fans, can benefit from using a high-quality rideshare service with a focus on protection of both passengers and drivers."
The new partnership represents a greater emphasis on safety in rideshares. Reports have shown that for some of the world's largest rideshare companies, sexual assaults and other forms of harassment that take place in a rideshare situation are seriously underreported, with little recourse for victims. At the same time, strained public transportation systems have become increasingly unreliable. Safr provides a solution: a more secure, vetted rideshare service that caters to the needs of women and their families.
When asked about Safr's mission about empowering women at the NFL Alumni Super Bowl Brunch in December 2019, some of the world's most prominent women in the NFL family had inspiring and empowering words to share.
"To every woman that thinks you're not enough: you are enough," said Collette V. Smith, the first woman to coach the New York Jets and NFL's first female African American coach. "Believe in yourself, stand in your purpose, stand in your passion, and help your sisters back who are going through the same struggle."
The sentiment was shared at the same event by Terri Matthews, entrepreneur, mother, and wife of Lee Woodall, retired NFL linebacker for the San Francisco 49ers and Super Bowl XXIX champion. "For all the women out there, know that greatness is inside of you. Many of us have come from challenging times. There is still an opportunity, don't look at your age or background, where you've come from. This is your year, make it happen."
Safr takes a variety of precautions that empower women to distinguish it from other rideshare services. All drivers and passengers undergo a multi-level background check and are part of real-life teams that meet in person, versus just signing up online. Passengers can rest easy knowing they have the ability to choose their driver's gender, and can re-book the same driver. Should they feel unsafe at any time, both the driver and passenger may call for help discreetly with the click of a button.
The partnership between Safr and NFL Alumni underscores the organizations' common commitment to safe transportation for all. Safr is dedicated to meeting the growing demand for safe and reliable transportation, and to be a solution for women and their families around the world.
About Safr
Safr is a new ridesharing service focused on the safety and empowerment of women. Built with the needs of women in mind, Safr aims to improve the lives of women everywhere through safe transportation, job creation, and financial security. Safr's drivers are personally vetted and undergo comprehensive background checks so that riders can have peace of mind knowing they meet Safr standards. Safr's multiple in-ride app features aid in the protection of your safe arrival. When you choose to ride with Safr, you're supporting a like-minded driver and elevating your community by helping to improve greater gender balance, choice, and participation in the ridesharing economy. For more information, please visit http://www.gosafr.com.
About NFL Alumni
Founded in 1967 by a small group of successful retired NFL players, the National Football League Alumni is the oldest, most well-known and well-respected retired player organization in professional sports. Membership includes thousands of retired players, coaches, front office executives, spouses, cheerleaders, and avid fans. A primary mission of NFL Alumni is "Caring for Our Own" as we inform, assist, and serve players in their post-NFL lives. Alumni are offered a diverse package of medical, business, and legal services to help keep them and their families healthy, productive, and connected to the league and their former teammates. NFLA is a non-profit organization. NFL Alumni also has a traditional mission of "Caring for Kids" across the country. Player alumni give back in their local communities by raising funds for youth-related charities through their 35 regional chapters. It is a tradition that has existed for more than 50 years. Alumni support typically raises more than $1.5 million dollars for worthwhile causes. To accomplish our mission & vision, we have established the NFL Alumni Foundation which is a 501 (c)(3) non-profit organization. For more information, please visit http://www.nflalumni.org.