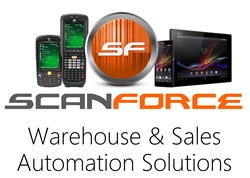 ScanForce is an excellent addition to the ERP VAR marketplace. ScanForce is the preferred warehouse management solution for many Sage 100 ERP VARs and customers. We are delighted to have them participate on ERPVAR.com. Adrian Montgomery
Dana Point, CA (PRWEB) August 20, 2013
ERPVAR.com announced today the formation of a strategic partnership with leading Sage 100 ERP (formerly MAS 90 and MAS 200) Warehouse Management and Sales Automation solutions provider, ScanForce.
ScanForce is a seamlessly integrated automation solution suite for the Sage 100 ERP product line. As an industry leader, ScanForce has continued to provide cutting edge technology combined with easy to use software, offering error-proof automation solutions. From Warehouse Automation to Sales Automation, ScanForce is quick and simple to install and extremely easy to use.
Warehouse Automation allows users to quickly receive items, while giving you the confidence that the data in your Sage 100 ERP system is accurate. Experience a standard 75-80% reduction in the time it takes to perform a physical count. Avoid costly shipping mistakes and improve customer service by automating and streamlining your shipping processes.
Sales Automation puts a powerful selling tool in the hands of your sales force. Quoting, Sales Order Entry, Invoicing, and Credit Memos are easily created on Android or Windows Tablets, or rugged mobile devices with built-in scanners. Whether out in the field, at a trade show, or in a showroom, orders and invoices are created efficiently and imported seamlessly back into Sage 100 ERP.
Advanced scanning and label printing options allow ScanForce to offer solutions that include long-range scanning and 2D bar code scanning, as well as the connected or wireless printing of these and other custom bar codes.
As a leader in the industry, ScanForce has been able to partner with and benefit from integration with several partners. Partnerships with companies such as ACSG (Multi-bin), JDBSG (Work Order, Job Ops), and SWK (MAPADOC) have allowed ScanForce to provide the most comprehensive and powerful solutions for inventory management and control.
Recent updates to ScanForce include Sales Automation for Android and Windows Tablets, Warehouse Automation additions including Wave Picking, Pick and Pack, Directed Picking and Pallet Tracking, and several additional features within Shipping, Receiving, and Inventory Transactions.
While ScanForce's technology and ease-of-use are key, customer service remains one of the most important aspects of our business model. ScanForce support is second to none and our talented development staff allows customers to customize each solution to fit their exact needs.
ScanForce will be listing the Sage 100 ERP warehouse management application within the Sage 100 ERP marketplace on ERPVAR.com. ScanForce will be working with Sage 100 ERP consultants listed on ERPVAR.com to perform webinars. These webinars will educate the Sage 100 ERP customer base in regard to add-on solutions that make their businesses more efficient. ScanForce will also be contributing value added insight via guest blog entries on the website.
Contact ScanForce today to find out more about the most trusted and seamlessly integrated suite of Automation Solutions for Sage 100 ERP. We are a one-stop-shop for Warehouse Management, Label Printing, Sales Automation, Manufacturing Automation, and hardware needs from scanners to printers. Email us at info(at)scanforcesoftware.com, or call us today at 305-477-9515.
About ERP VAR
Established in 2012 and headquartered in Orange County, CA, ERP VAR represents the collective expertise of Sage 50 (formerly Peachtree), Sage 100 ERP (formerly MAS90 and MAS 200), Sage 500 ERP (formerly MAS 500), Sage ERP X3, Epicor, Microsoft Dynamics GP, NetSuite, Intacct, Infor, Acumatica and QuickBooks Enterprise third party developers combined with the expertise of local implementation ERP consultants. These local ERP consultants provide end users with a thorough needs analysis to determine which ERP software functionality is required to address their unique needs. If a business process assessment is required, the local channel partner is enlisted to provide a comprehensive examination with end user company departments to insure the correct ERP software is selected implemented and the staff is properly trained. For more information, please visit ERPVAR.