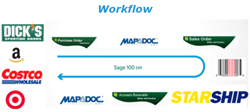 We are thrilled to offer a success story styled webcast to prove how one Sage 100 customer in the distribution industry profits from this end-to-end order processing solution! said Adrian Montgomery, Partner ERPVAR.com
Dana Point, CA (PRWEB) October 13, 2015
ERPVAR.com, an expert ERP consultant directory, resource center and the world's leader in ERP networking, today announced a collaborative webinar between 4 market leading ERP software integration developers, SPS Commerce, MAPADOC, Scanco, StarShip shipping software and a mutual Sage 100 customer Mad Dogg Athletics.
Webinar Date: Thursday, October 22, 2015
Webinar Time: 11 AM PT / 2 PM ET 1 Hour
Register here: http://www.erpvar.com/sage-100-sales-order-processing-success-story
Mad Dogg Athletics offers the most comprehensive portfolio of fitness equipment, programming, and education to deliver the world's best fitness experiences.
Background:
3 US warehouses, 2 primary located in CA with a combined 48,000 sq. ft.
An average of 900 shipments per week are sent from their CA warehouses
Process a combination of EDI and Non-EDI shipments
Mad Dogg will testify to the following cost saving benefits of implementing the 4 integrated solutions in combination:
SPS Commerce and MAPADOC saved Mad Dogg 80 hours a month:
Prior to SPS Commerce and MAPADOC, Mad Dogg had 1 retail clerk MANUALLY entering the PO's into Sage
The previous workflow was both inefficient AND error prone
What took 3-4 hours per day now takes 10 minutes!
Scanco saved Mad Dogg 72 hours per month:
Eliminated Saturday work days and streamlined inventory
Created sections by product line simplifying the inventory count process
Used serial #'s to count bikes resulting in a 50% time reduction
Achieved 100% accuracy in picking
Integration to ACS Multi-Bin keeps product organized and automatically moves fast selling items to the front
StarShip shipping software saved Mad Dogg 240 hours per month by reducing the time to process shipments
Prior to StarShip, shippers were manually re-keying data into carrier systems
StarShip shaved 4 + minutes off each shipment
Ease of use - within 1 week they were completely up and running
Automated third party billing to eliminate double entry and errors
Streamlined international shipments by associating the Harmonized (Schedule B) Code to line items
Able to quickly respond (and be 1 step ahead) to new carrier rules such as the DIM weight changes that took place earlier this year
About ERP VAR
Established in 2012 and headquartered in Orange County, CA, ERP VAR represents the collective expertise of Sage 50 (formerly Peachtree), Sage 100 ERP (formerly MAS90 and MAS 200), Sage 500 ERP (formerly MAS 500), Sage ERP X3, Epicor, Microsoft Dynamics GP, NetSuite, Intacct, Infor, Acumatica and QuickBooks Enterprise third party developers combined with the expertise of local implementation ERP consultants. These local ERP consultants provide end users with a thorough needs analysis to determine which ERP software functionality is required to address their unique needs. If a business process assessment is required, the local channel partner is enlisted to provide a comprehensive examination with end user company departments to insure the correct ERP software is selected implemented and the staff is properly trained. For more information, please visit http://erpvar.com.