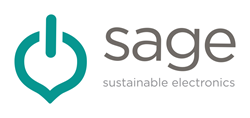 Your gadgets have more to give.
Columbus, Ohio (PRWEB) May 02, 2017
Sage Sustainable Electronics has announced the certification of all three of its U.S. facilities to the e-Stewards® Standard for managing used electronics. e-Stewards certification is awarded to service providers passing the world's most rigorous independently conducted audits and performance verification for electronics reuse, recycling, and data security services.
Sage President Jill Vaské stated "our mission is to make the world more sustainable by extending the life of used electronics. Thanks to e-Stewards, enterprise customers worldwide have heightened expectations for sustainability and financial results from responsible IT asset disposition (ITAD)." Vaske noted that ever increasing amounts of used electronics are recycled rather than reused. "But at Sage, we prove that your gadgets have more to give," she said.
The e-Stewards Standard requires stringent testing of devices prior to their sale for reuse, and forbids the export of e-waste to developing countries—a practice that is all too common according to the Basel Action Network.
"Unfortunately, our research continues to prove that many processors, professing to be green and socially responsible, violate their own claims of responsible recycling by selling e-waste to international brokers, which leads to violations of international law, and severe damage to human health and the environment," said Jim Puckett, Executive Director of the Basel Action Network, creator and holder of the e-Stewards program.
To ensure accountability in this regard, e-Stewards is the only standard in the world that not only requires rigorous annual audits but conducts random unannounced inspections and routinely places unannounced GPS tracking devices into its member's processing streams to verify proper downstream management.
"Of all our certifications, e-Stewards is the most valuable to Sage customers because it is the most actively monitored," Sage CEO Bob Houghton noted.
Improper handling of used electronics can cost millions in fines and remediation expense under environmental and privacy laws. "A business retiring IT equipment needs to work with someone they can trust to protect their brand," said Houghton. "This certification confirms that Sage is performing at the highest level of global best practices for protecting our customers' interests."
e-Stewards also requires verifiable data erasure to protect all client confidential data, with requirements that meet or exceed any other standards. The certification is awarded only to the highest performing and highest integrity electronics processors. Currently 60 companies have achieved e-Stewards certification worldwide. 44 institutional Enterprise customers support e-Stewards as designated e-Stewards Enterprises, including Bank of America, Wells Fargo, Boeing, Alcoa, Samsung and LG.
"We have known the Sage principals for a very long time. We know that the fostering of social and environmental responsibility in the ITAD industry resides deep in their business and personal DNA. We are therefore thrilled to have these model business leaders back in the ranks of our program," said Puckett.
About Sage Sustainable Electronics
Sage provides IT asset management, data security, and disposition services to companies nationwide, improving the environmental, social, and financial outcomes from IT lifecycle management. Sage extends the life of surplus electronics by refurbishing them for further use through redeployment, resale, donation, and employee sales. As the publisher of Sage BlueBook, the company provides the world's largest data source for equipment appraisals used in IT refresh planning and lease management. Sage is a woman owned business, led by the former executives of Redemtech, a fifteen year leader in the ITAD industry. Founded in 2014, Sage operates Repurposing Centers in Baltimore MD, Columbus OH, and Reno NV.
http://www.sageSE.com
http://www.SageBluebook.com
http://www.SageGoodTogether.com
https://shop.sageSE.com
About e-Stewards
The e-Stewards® initiative is a market-based solution to help individuals and organizations identify and promote electronics recyclers who ensure that used electronics are managed with the highest standards of environmental and social responsibility. e-Stewards Certified Recyclers are audited and certified to ensure highest levels of responsibility.
http://www.ban.org
http://www.e-Stewards.org
info(at)e-Stewards(dot)org