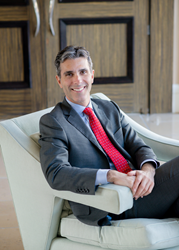 DENVER (PRWEB) January 23, 2020
Sage Hospitality Group, one of the nation's leading hospitality investment, development and management companies, announced today that Daniel del Olmo has joined Sage as president of the company's hotel management arm. In this role, del Olmo will have comprehensive oversight of Sage Hotel Management's hotel and restaurant operations. He will be tasked with creating and executing strategies that strengthen and grow the division, as well as meeting all operational and financial goals.
"Daniel is an exemplary leader with a proven track record and expertise in leading hotel and restaurant operations to success," said Sage Hospitality Group's President and CEO Walter Isenberg. "He also demonstrates a passion for being on the pioneering edge of the hospitality industry, and I sincerely look forward to his contributions to our portfolio and our teams."
Del Olmo is a senior hospitality executive with extensive experience in global business strategy, brand management, hotel/restaurant operations and business development. His expansive career includes an 11-year tenure with Wyndham Hotel Group in multiple senior and executive level roles, including Senior Vice President & Managing Director for Latin America, where he managed a portfolio of more than 115 hotels and seven brands in 11 countries.
"For years, I have admired Walter and the talented team at Sage Hospitality Group for the genuine dedication to the communities that Sage hotels and restaurants serve and for their innovative and highly relevant approach to lifestyle hospitality," Del Olmo said. "I am both humbled and honored to join the team at such a critical juncture and am thrilled about the opportunity that lies ahead."
He comes to Sage from The Passionality Group, a company he cofounded that has a focus on advising and investing in emerging hospitality brands that invoke genuine passion, represent authentic hospitality innovation and exhibit meaningful potential for growth. Prior to founding The Passionality Group, del Olmo served as Chief Executive Officer of sbe's Disruptive Restaurant Group where he led their award-winning global portfolio of more than 140 owned, managed and licensed restaurant brands, lounges, and nightclubs with annual sales exceeding $500M. He has also held senior positions with renowned hospitality companies, such as President of International at Dine Brands Global. In addition to his operations career, Daniel has progressed through leadership roles in marketing and ecommerce for Meliá Hotels International and Amadeus North America. Del Olmo is a member of Young Presidents Organization (YPO) and board member of Pantomonium Productions.
Del Olmo joins Sage Hospitality at an exciting time of growth, with a number of development projects in the pipeline that will add to the company's dynamic portfolio of more than 50 hotels across the U.S. Current projects under development include the Milwaukee Athletic Club in Milwaukee, WI, and two projects in Denver – one at McGregor Square near Coors Field and another in the RiNo Art District. To learn more about Sage Hospitality Group's growing portfolio of hotels and restaurants, visit sagehospitality.com.
###
Media Contact:
Kelly Bajorek
Director of Public Relations and Social Media
Sage Hospitality Group
720-482-3086
kelly.bajorek@sagehospitality.com
About Sage Hospitality Group
Denver-based Sage Hospitality Group was founded in 1984 and continues to lead the hospitality industry in hotel and restaurant management as well as real estate investment. Sage is known for outstanding relationships with hotel brands and creating places that people want to go to, not through, including 10 unique restaurant concepts by Sage Restaurant Concepts and independent luxury properties by Sage Hotel Management. To learn more about Sage, visit http://www.sagehospitality.com.