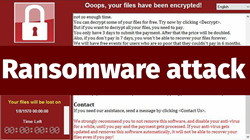 "Ransomware is more about manipulating vulnerabilities in human psychology than the adversary's technological sophistication" ― James Scott, Sr. Fellow, Institute for Critical Infrastructure Technology
AUGUSTA, Ga. (PRWEB) January 19, 2022
A Complete Guide : Countering Ransomware in 2022
Sagenext Infotech, a US-based IT company committed to creating world-class cloud hosting solutions for Small and Medium businesses, bookkeepers, professional accountants, and CPAs, has just released a very comprehensive and factual guide on ransomware attacks, preventive measures, and counter the aftermath in 2022. The guide helps computer users protect themselves against these attacks, and prevent them from happening in the first place.
As a part of their commitment to delivering a superior level of shared hosting services, the cloud hosting services company located in Augusta, Georgia USA, went a step further to devote some resources a few weeks ago to extensive research about Ransomware.
What is ransomware?
Ransomware malware is a type of malicious software that locks users out or encrypts their files, thereby preventing them from accessing these files. It then demands that users pay a ransom, in order to get a decryption key that will unlock or decrypt the files and give them back access to their data.
The Sagenext team took it upon themselves to create this guide as these ransomware attacks have been on the rise in the past couple of years. In fact, according to the Federal Bureau of Investigation (FBI), 4,000 ransomware attacks occur every day on average, and if you include the ransom paid to the perpetrators and the money spent in assets recovery, the cost is upwards of $1 billion every year.
What the guide is all about
The guide detailed the differences between ransomware attacks and other forms of malware like viruses, trojan horses, spyware, and adware. It equally discussed the history of ransomware, starting from the first recorded ransomware occurrence in 1989, and went on to discuss recent popular attacks that took place in the US and other places and how they affected the businesses involved.
In addition to that, it includes detailed step-by-step action points on how to prevent an attack and how to respond to one in case it occurs. It also discusses the impact ransomware attacks have on businesses including the loss of C-level talent, financial losses due to the revenue paid, disruption of regular activities, like what happened to JBS Foods, and the potential harm to the reputation of the affected organization.
Why Sagenext created the popular ransomware guide
Through this guide, Sagenext hopes to educate the public on the subject of ransomware. Their goal is to help end-users see the honest mistakes they could be making that make them vulnerable to these attacks. But to make it better, through the guide, users can learn how not to fall victim to email phishing, malvertisement, and other tricky methods that cybercriminals employ to perpetrate their act.
Backed up by a team of Microsoft-certified engineers, cloud computing experts, and network technicians, Sagenext is committed to leveraging the best technological resources to ensure efficient conjunction of software and business data in the cloud. And to prove their commitment, their research team has created this detailed guide to help end-users protect themselves against ransomware attacks and prevent them from happening.
For further reading
Website: Tackling Ransomware in 2022
Sales/Support ( Toll Free ): +1-855-922-7243
Facebook: https://web.facebook.com/sagenextinfo?_rdc=1&_rdr
Twitter: https://twitter.com/sagenextinfo
YouTube: https://www.youtube.com/user/sagenextinfo