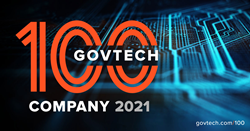 "To be named to the GovTech 100 list for the third year in a row is a huge honor", said Piyush Jain, CEO, Sagitec.
ST. PAUL, Minn. (PRWEB) January 11, 2021
For six years now, the GovTech 100 list has highlighted companies helping the government and the public sector innovate processes and better serve its members. Those listed have introduced new ideas, implemented efficiencies, and set the stage for a brighter future.
This past year added a new wrinkle of difficulties to an already challenging endeavor. As the global pandemic ensued, many government agencies found themselves performing tasks they previously weren't expected to do. From setting up remote work settings, incorporating new technology, and modernizing software processes, agencies turned to companies on the GovTech 100 list to help.
"Although 2020 was an unprecedented year of rapid change and disruption, we saw gov tech companies rapidly adapt their services and solutions to help state and local government agencies navigate the uncertainty," said Chief Innovation Officer Dustin Haisler, who was heavily involved in the list's creation.
"To be named to the GovTech 100 list for the third year in a row is a huge honor", said Piyush Jain, CEO, Sagitec. "We focused on assisting our clients by creating solutions to help meet the challenges of the past year. Especially during the pandemic, our goal has been to help agencies modernize their software systems and scale for increased demand. We will continue to invest in areas that help our customers as we all navigate the new normal."
Sagitec recently expanded its strategic investments in Canada as part of its global expansion program. Canada is among the top five largest countries for public sector work and is a key focus area for Sagitec in the future.
Sagitec's robust platforms can administer complex benefits across industries and can evolve and scale as technology changes, making it ideal to innovate government and public sector processes.
We are proud to be part of this list for the third time. We look forward to further helping the public sector and the benefits administration industry innovate with a focus on cloud and cutting-edge technology solutions.
About Sagitec Solutions
Sagitec Solutions, LLC, is a global software provider focused on solving complex, business-rule driven problems with domain experts and proven technology. Sagitec designs and delivers complex benefits administration software- pension, unemployment insurance, paid family leave, disability, and healthcare solutions to clients of all sizes. Understanding that a dynamic world requires dynamic technology, Sagitec offers highly configurable, rule-driven solutions, and extensible by nature. With deep industry experience in software implementation and systems integration, project management, knowledge management, predictive analytics, chatbots, cloud services, consulting, hosting, and software support, Sagitec is a partner that clients can trust to drive their vision into action. For more information, visit: http://www.sagitec.com