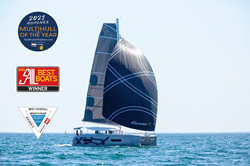 ANNAPOLIS, Md. (PRWEB) May 26, 2021
SailTime Group LLC, the world's largest boat membership company, is excited to announce the new and much-anticipated Excess 11 catamaran named "Isa Lei" has joined the fleet of yachts available to SailTime Annapolis members.
The Excess 11, awarded of the ultimate prize Best Overall Cruising World's 2021 Boat of the Year and the SAIL Best Boat award is one of the smallest cruising catamarans capable of offering the thrill of sailing in a comfortable and efficiently designed space. Sailors and their passengers can live aboard while they explore some of the most remote spots in the high seas.
"We are proud to be the only boat sharing service in the world with an Excess 11 catamaran in its fleet," says Todd Hess, CEO of SailTime Group. "The Excess 11 is a perfect fit for our members at SailTime Annapolis. Whether you're a day sailor or you prefer multi-day voyages, this boat hits all the right notes."
SailTime was formed to fulfill a need to make boating easier and more affordable. A pioneer of the sharing economy, SailTime offers its members all the enjoyment of owning a boat without the hassle and expense of maintenance and upkeep. The company has quickly expanded to more than 25 bases on three continents, including 22 bases in the United States, three in Europe, and four in Australia.
The Excess 11 is part of the new "Excess" family of catamarans from its parent company, Groupe Beneteau. Created to offer a monohull experience on a catamaran, Excess and its Excess 11 provide an affordable option at its size, specifically designed for sailors seeking the experience of hands-on sailing while still enjoying the comforts that come with a multi-hulled watercraft.
"Excess enthusiasts understand the DNA of our brand. Excess represents a spirited lifestyle and a modern vision of sailing," says Fred Signat, Director of Excess Americas. "Thanks to its unmatched design and architecture, the Excess 11 is as fulfilling and enjoyable to live aboard as it is to sail. It's a beautiful, simple, easy and comfortable boat."
Boaters will need an advanced sailing education and at least one year of experience with a 40-foot boat to qualify for use of the Excess 11 catamaran. Fortunately, SailTime's Sailing Schools can help boaters of all skill levels as they prepare for their next adventure.
SailTime makes it easy for members to enjoy access to the fleet of yachts at each of its locations. Members simply log on to SailTime's cloud-based scheduling software to reserve time on their chosen boat, either for a one-day or a multi-day voyage. Upon completion of their trip, they simply check out in the online application and leave the keys with SailTime's team.
Learn more about sailing courses available at SailTime Annapolis, and how our first-of-its-kind boat membership program works.
About SailTime
A pioneer in the sharing economy, SailTime was founded in 2001 in Austin, Texas, and is the largest fractional boat club in the world. SailTime's innovative boat sharing program offers the freedom of regular, flexible time on the water without the responsibilities that come with full boat ownership and makes the experience of boating easier and more affordable for sailors of all skill levels. Originally focused exclusively on sailboats, the business expanded to more than 30 bases in North America in its first three years. Now offering both sailboats and powerboats, SailTime maintains 29 bases with 128 boats on three continents, including bases in Spain and Australia.
SailTime is the largest network of American Sailing Association (ASA) schools in the world and provides its guests and members with top-notch training from certified instructors, instilling the confidence and competencies necessary to achieve guests' and members' sailing goals.
About Excess
Excess is the youngest catamaran brand from Groupe Beneteau with a sporty and connected character.
Excess12 and Excess15 have been introduced to the market at the Cannes BS in 2018 and in the Americas at the Miami BS in 2019.
Excess11 is the newest model within the range. Introduced in the US at the Miami BS 2020.