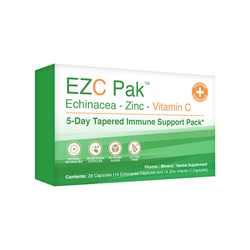 We have an uphill battle against superbugs, but we're not done fighting.
LOS ANGELES (PRWEB) November 25, 2020
E-Z-C Pak, the first physician formulated immune support pack composed of Echinacea, Zinc, and Vitamin C designed to reduce antibiotic overuse in cold and flu has surged in demand amid the COVID-19 outbreak. Company spokesperson Julianne Jahn reported that brand sales are up over 850% online and over 300% overall from the previous fiscal year. The company's Vitamin D product EZC Pak+D, launched last year, has become a top online seller, bolstered by research showing COVID-19 positive patients are four times less likely to require admission to intensive care units (ICUs) if they have normal levels of Vitamin D.
EZC Pak has won six awards over the past three years and was featured in a deal-winning over-the-top episode in Season 11 of structured reality television series Shark Tank.
"The COVID-19 pandemic has been one of the saddest periods of American history. The outbreak has exposed fundamental structural problems with the design of the US healthcare system. The inadequacies of our healthcare system across the management of infectious diseases and public health outbreaks, to psychiatric care, to the medical education system, to the coordination between public health agencies, to the dissemination of accurate health information to the American public has been on full display," said CEO Sarath Malepati, MD.
"Antibiotics still don't treat viruses. Yet antibiotic abuse has been extremely high this year. Superbugs are going to continue to be a problem both in healthcare facilities and the community for as long as bad medicine and bad healthcare continues to be our chosen path. These are complex problems that require humility, collaboration, and a long term outlook to solve. We have yet to reach that point," Malepati said.
Dr. Malepati stated that funds from EZC Pak's most successful year of sales to date will be allocated to ongoing support for antibiotic stewardship initiatives in community clinics in medically under-resourced areas of the US, international expansion, and building out the company's clinical research program. "We have an uphill battle against superbugs, but we're not done fighting," he said.
About EZC Pak:
EZC Pak is the first physician formulated Immune Support Pack composed of certified organic Echinacea, Zinc, and Vitamin C designed to reduce the problem of antibiotic overuse in colds and flu. For more information on where to buy EZC Pak in your neighborhood, please visit the store locator at ezcpak.com.