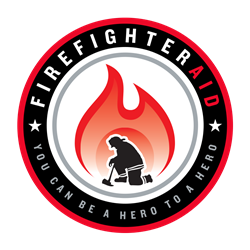 "While 2020 is uncertain, the unwavering support of GovX is as solid as it gets and for that we are grateful." - Carlye Wund, Director of Development at FirefighterAid
SAN DIEGO (PRWEB) October 12, 2020
A fundraising effort organized by GovX, the online shopping site exclusively for current and former military and first responders, raised over $13,000 for FirefighterAid, the nonprofit fund managed by the San Diego Fireman's Relief Association that provides charitable assistance to firefighters and their families in times of need and promotes awareness of firefighter health and safety issues.
The GovX community raised the September funds with individual purchases of the newest entry in the Patch of the Month series. The limited edition "United We Stand" memorial patch pays tribute to the 19th anniversary of the attacks of September 11th, and honors firefighters, police, and the armed forces, all of whom were called upon to serve on that historical day.
Supported entirely by donations from SDFRA members and the public, FirefighterAid is one of GovX's closest allies in its mission to support first responders who serve America's communities. The fund provides charitable assistance to professionals from every world of the firefighting community, from wildland to structural, full-time paid firefighters to part-time volunteers. They galvanize the dreams of young people who want to become firefighters with scholarships for attending fire cadet programs.
FirefighterAid also champions the causes of firefighter health and safety with educational programming and seminars. Through the Cancer Awareness & Prevention Program, the nonprofit reinforces best practices in the workplace to mitigate the risk of cancer-causing contaminants that firefighters so often encounter on the job.
FirefighterAid also offers more personalized and critical support for the extended members of the firefighting community. Following the death or injury of an active-duty firefighter, FirefighterAid volunteers provide logistical and emotional support for families—performing chores, doing housework, delivering groceries, providing transportation, and sending annual gift baskets to grieving spouses.
"In a year where Americans have relied on the service and sacrifices of firefighters and first responders more than ever, it's especially humbling to see the GovX community once again step up in support of FirefighterAid," said Alan Cole, GovX CEO. "This memorial patch in recognition of the 19th anniversary of September 11 is another tribute to this incredible organization we've supported for years, and we'll continue to do so."
"Like a lot of nonprofits, 2020 hit FirefighterAid very hard when it comes to funding our programs, support from our community partners, and donations from our annual supporters," said Carlye Wund, Director of Development at FirefighterAid. "In June, we realized that we were going to have to cancel our annual in-person fundraiser that we produce, and we were extremely worried about how we would still raise our critically needed funds. Through the continued support of GovX and this extremely generous $13,000+ donation we know that our valuable programs and services are going to be able to keep serving our essential workers and our firefighter heroes. We at FirefighterAid are not essential workers, but we serve an essential population. GovX not only jumped into action in March when we really needed help, but has continued to support us to this day. While 2020 is uncertain, the unwavering support of GovX is as solid as it gets and for that we are grateful."
If you're interested in volunteering with FirefighterAid, learn more by visiting their Get Involved section.
About GovX:
GovX.com is for the men and women who protect our country and communities. The members-only eCommerce site offers thousands of products, tickets and travel services from hundreds of premium brands at exclusive, below-retail pricing. Eligible members include active and veteran U.S. military, firefighters, law enforcement officers and federal agents. Membership is free and more information can be found at GovX.com.