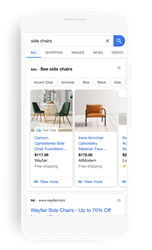 BETHPAGE, N.Y. (PRWEB) July 15, 2020
Free and fast annotations for Shopping ads brings to US merchants an entirely new and exciting opportunity to enhance the visibility of their product ads on Google and is likely to help store owners drive more conversions and ads efficiency.
Throughout part of 2019 and now into 2020, Sales & Orders was a pilot partner to enable merchants on this new opportunity which has just exited its Closed Beta Testing phase.
What are free and fast annotations for Google Shopping ads?
Shoppers today have incredibly high expectations, and that is surely not to change in the near or even distant future.
According to a Walker Sands study back in 2018, 79% of US consumers had said that free shipping would make them more likely to shop online. To put that even more into perspective, a similar study issued by Narvar saw that 53% of those consumers won't even purchase a product if they don't know when it will arrive.
Free and fast annotations for Shopping ads aims to solve for the pain points of both merchants and consumers with special annotations for these Shopping ad units on Google search which highlight not only free shipping on products but also expected delivery and/or arrival times.
Merchants in the US could see improved conversion rates and ads efficiency as a result of adding free and fast annotations to their Shopping ads. Especially in these trying times of the coronavirus pandemic and continued spread of COVID-19 in the US, free and fast annotations for Shopping ads is also an opportunity for merchants to provide more information to shoppers in a way that can have a lasting impact on consumer confidence.
How retailers can gain access to free and fast annotations for Shopping ads
Sales & Orders is one of the few pilot partners to help merchants onboard to free and fast annotations.
What's more, the eligibility requirements for merchants are simple and very few at that:

An active Merchant Center account with products opted into Shopping ads in the United States
Active web conversion tracking in your Google Ads account
Active products in your Merchant Center account which you can identify as free and fast
Account-level shipping settings configured for free and fast
Product feed attributes shipping_label and Transit_time_label
Product landing or detail pages and checkout pages to message free and fast shipping
Even better, there is a high level of flexibility to show this badge:
No limitations on providers (ie you can ship with FedEx, UPS, USPS, etc.)
You can limit your own free and fast annotations by region (ie by State)
You can have free and fast annotations apply only to specific SKUs in your product feed
For anyone with an ecommerce store powered by BigCommerce, Shopify, or Magento 2 - you can leverage Sales & Orders to produce a Google Merchant Center product feed for free for up to 10,000 products.
Additionally, Sales & Orders can support merchants on just about any e-commerce platform as long as they can generate a feed from their store or if they already have an active feed in Merchant Center.
Learn more about Sales & Orders and working with their app and/or team by visiting their website.