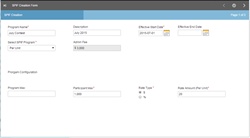 One of the most important value propositions we provide our customers is better time-to-value.
Chester, PA and Singapore (PRWEB) August 12, 2015
Optymyze®, a worldwide provider of enterprise cloud applications and services for improving sales and channel performance, today announced its latest release of Optymyze Sales Performance™. This quarter's release strengthens the core capabilities of the Optymze SPM solution while also improving visibility to information, saving organizations time, and giving them more flexibility. Salespeople now have more detailed visibility into their total compensation – regardless of the complexity of their compensation plans. This release also lets sales operations users manage payout curves at a more granular level, and offers more pre-configured, plug-and-play applications. "We understand that today's large enterprises have complex incentive compensation management challenges, which our technology is uniquely designed to address," stated E.K. Koh, Vice President of Products for Optymyze.
Detailed Visibility For Sales and Greater Flexibility for Sales Operations
Reflecting our core focus on providing market-leading incentive compensation functionality, we continue to enhance our Optymyze Sales Comp Cloud product. This quarter, payees can now view their earnings and payments at a more detailed level, regardless of plan complexity. For example, salespeople can easily view pay for each component of their plan, or pay earned while serving different roles within the pay period.
In addition, this version adds back-end incentive compensation capabilities that let organizations pay sales teams according to more granular business rules. Specifically, this enhancement enables customers to manage payout curves by variables like product category or time frame of a given sale. This benefits companies with complex commission payout models; for example, sales organizations with multiple product categories and different commission rates that vary depending upon the time in which a sale occurs.
Continued Focus on Value for Sales Operations
As enterprises continue to elevate sales operations to a more strategic function within the organization, Optymyze SPM delivers greater efficiency and productivity for the sales operations team. This new version of Optymyze Sales Performance streamlines the sales crediting process and improves how quota attainment can be calculated.
The first new capability enables the sales operations team to precisely allocate sales crediting according to one of several key variables, such as sales territory owner or product category.This improves sales operations' accuracy and efficiency within complex sales organizations that must manage multiple sets of sales crediting rules.
To make tracking and managing sales quotas easier and more effective, the ability to see actual quota attainment at any point in time has also been added. This helps sales operations and sales management take corrective action if actual sales are out of step with expected quota attainment for the period.
Simplified Development of Sales Performance Management Applications
Optymyze released several important enhancements to Optymyze Sales Application Studio. These developments emphasize ease-of-use in creating and managing configured applications, by providing richer capabilities within different modules. The most important of these include allowing customers to quickly copy the definition of a given Studio Application for use in a new app and making it easier to define the different components which make up each Studio App.
Optymyze Data Forms, which gathers information within an application, now has richer functionality to handle a broad range of complex data collection needs, including using expressions and logic to display and save information.
Decreased time-to-value with broader out-of-the-box functionality
Continuing the theme of increased efficiency and faster time-to-value, a set of pre-packaged apps developed in Optymyze Sales Application Studio were also delivered this quarter. Customers can simply import their data into one of the apps and start using it in a matter of days or weeks.
There are three pre-packaged apps now available:

Sales Portal - shows current sales, quota attainment, and sales plan results.
Plan Management Portal - builds on Sales Portal by allowing sales managers to execute more administrative functions.
Disputes and Inquiries - allows salespeople, sales managers and sales operations to streamline and automate the process of compensation dispute resolutions.
Enhanced Usability to Drive Productivity
Following the release of a new UI last quarter, this release includes further improvements to help users get things done faster – wherever they are. To improve effectiveness for mobile users, Optymyze now features responsive design architecture which allows the Optymyze application to serve the appropriate user experience based on their device.
Other usability improvements include helping users more quickly find the information they need with improved search against data stored in the hierarchy; improving administrator efficiency by enabling them to access export files with a single click; and other enhancements to give users quick access to information as they navigate the application.
Comments on the News
"One of the most important value propositions we provide our customers is better time-to-value. This quarter we delivered on that promise on several fronts – from providing customers pre-packaged apps which they can start using immediately to stronger core functionality in Optymyze Sales Application Studio, our platform as a service offering." Said E.K. Koh, Vice President of Products for Optymyze.
"In addition, we continued to deliver on the other key areas of the solution this quarter –including providing several important usability enhancements for all users of the application and continuing to provide market-leading incentive compensation capabilities which are core to our technology solution."
About Optymyze
Optymyze helps companies rapidly improve sales performance and create strategic sales operations, via industry-leading cloud software, services, and business process management. Optymyze solutions include Optymyze Sales Performance software, Optymyze Sales Application Studio, software services, and Sales Operations as a Service. By providing compensation management, sales optimization, sales enablement, and sales analytics, Optymyze enables customers to leverage continuous change for strategic business advantage. Optymyze is backed by 23 years of experience working with global sales organizations in nearly every industry, including life sciences, insurance, financial services, telecommunications, manufacturing, and retail. The company was named a Visionary in the 2015 Gartner Magic Quadrant for Sales Performance Management.
Optymyze is a registered trademark and Optymyze Sales Performance and Sales Application Studio are trademarks of Optymyze Pte. Ltd.