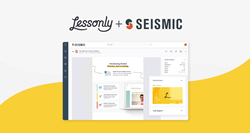 "Lessonly and Seismic share a passion for growing the sales enablement industry, and I'm confident this partnership will continue to help sales organizations." — Matt Lubbers, Director of Partnerships, Lessonly
INDIANAPOLIS (PRWEB) April 01, 2021
Lessonly, the training, coaching, and enablement solution for frontline teams, is pleased to share that it was recently named a Seismic Partner of Year during Seismic Digital Shift. The announcement was shared as part of the Seismic Shift Awards, which celebrates companies that are championing growth at their organization and in the sales enablement industry.
The Partner of the Year category recognizes an independent software vendor and consulting partner who have demonstrated strong collaboration with Seismic to deliver solutions for joint customers. Lessonly currently integrates with Seismic's sales enablement platform so that sales leaders can import Lessonly lessons right into Seismic. This creates a seamless experience for frontline sellers because they can access training content directly in the Seismic platform. Leaders can also track and analyze lesson usage alongside content in Seismic.
"We've partnered closely with Lessonly on delivering a tightly integrated solution that meets customer needs," said Preseetha Pettigrew, Global VP Strategic Alliances at Seismic. "Particularly for midmarket customers, sales enablement and training in one place is a powerful way to improve speed to market and sellers' ability to be successful. I expect continued innovation and benefits to our customers by bringing sales enablement and sales readiness together."
"Lessonly and Seismic share a passion for growing the sales enablement industry," said Matt Lubbers, Director of Partnerships at Lessonly. "With Lessonly's focus on training and coaching reps so they have the right skills, and Seismic's continued mission to help sellers engage buyers with the right content at the right time, I'm confident this partnership will continue to help sales organizations."
Lessonly's sales readiness software continues to add new features to empower sales teams at Deluxe, LendingHome, Jostens, and more. Recent additions include certifications, practice tools through chat conversations, and enhanced Zoom, Gong, and Slack integrations. To learn more about the Seismic integration, visit lessonly.com/seismic. Or, learn more about Lessonly at lessonly.com.
About Lessonly
Lessonly is a powerfully simple training, coaching, and enablement solution that helps teams ramp faster, deliver effective feedback, and continuously improve. Lessonly is used by over three million learners at more than 1,000 leading companies including Trunk Club, Jostens, and U.S. Cellular to share knowledge, develop skills, and reinforce best practices. The result is higher NPS scores, more closed deals, and a superior customer experience. Learn more at lessonly.com.