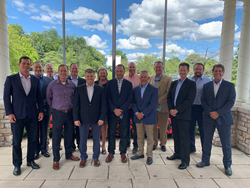 INDIANAPOLIS (PRWEB) August 18, 2020
Sales Xceleration Consultants serve small to mid-sized businesses by combining our proven tools and platform with their exemplary sales leadership skills to drive revenue growth for their clients. Business owners receive the benefit of an experienced sales leader managing and executing sales, allowing them to focus on running their businesses.
Eleven Outsourced VPs of Sales joined the largest Sales Xceleration training class to date. The class concluded earlier this month and these individuals are looking forward to serving their local communities:

"We are excited to have these sales leaders join our growing team of Advisors. While the overall economy is still struggling, many small to mid-sized businesses have engaged our consultants realizing that working with a Fractional Sales VP can set them on a course for significant revenue growth. Our Sales Leadership Consultants are ready to roll up their sleeves and work alongside SMB owners to help achieve their goals," said Mark Thacker, President, Sales Xceleration, Inc.
About Sales Xceleration
Sales Xceleration provides business owners with an experienced Sales Consultant to drive sales growth when it is needed most. Sales Xceleration Advisors build sales engines to create record-breaking growth for your business by:

Creating Your Sales Plan
Finding Your Best Customers and Sales Team Members
Growing Your Sales
Our Advisors are here to help and can provide free sales consultations. Visit our online map to learn more about these Advisors or to find an Outsourced VP of Sales© Advisor in your community to navigate your path to more sales now. For additional information, please visit https://www.salesxceleration.com.