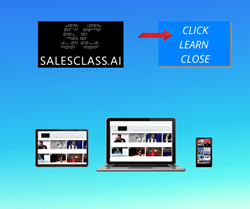 SalesClass.ai brings the top sales experts in the world to deliver a Netflix for sales experiential style learning that empowers sales professionals to become the best version of themselves. Gerhard Gschwandtner, CEO, SellingPower
ALISO VIEJO, Calif. (PRWEB) August 03, 2020
Today, SalesClass.ai announces the first-ever "Netflix for sales" experiential style online learning platform for sales professionals. SalesClass.ai was founded by Chad Burmeister, CEO of ScaleX.ai, Dionne Mischler, CEO of Inside Sales by Design (and CEO of SalesClass.ai), and Gerhard Gschwandtner, CEO of SellingPower.
"Salesclass.ai was purpose-built to leverage artificial intelligence to serve the needs of sales professionals to enable each sales person to become the best version of themselves," said Chad Burmeister, Co-Founder of SalesClass.ai
Since late February, SalesClass.ai has initiated agreements to provide on-demand content and SalesClass LIVE classes from some of the most influential sales professionals in the world including Mario Martinez (and Vengreso), Jeffrey Gitomer, Sandler Training, Kopp Consulting, Mark Hunter, Anthony Iannarino, and more.
According to one of the SalesClass Contributors, "SalesClass will become the Netflix for sales content and enable content proliferation".
In 2020, sales training budgets are being cut like never before, if there even was one in the first place. SalesClass.ai provides access to thousands of hours of live and on-demand training so that an individual sales professional can invest in their sales career, or their employer can for them.
Dionne Mischler, CEO of SalesClass.ai said, "I'm super excited to share the more than 2,000 on-demand sales training modules with our subscribers and even more excited for subscribers to attend the SalesClass LIVE sessions, put on by these vetted sales experts. By enabling the audience to interact with SalesClass.ai mentors in one-to-many SalesClass LIVE sessions, our subscribers experience learning like never before!"
According to Gerhard Gschwandtner, CEO of Selling Power, "AI for Sales is the future of sales and I'm confident that SalesClass.ai will be at the forefront of shepherding in this change. There are three core areas that SalesClass.ai seeks to address - the mindset, the skillset, and the toolset."
About SalesClass.ai: SalesClass.ai brings the top sales experts in the world to deliver a "Netflix for sales" experiential style learning that empowers sales professionals to become the best version of themselves.