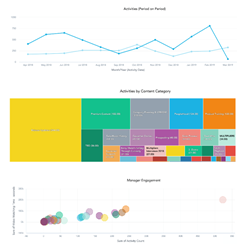 With SalesHood, our teams increased win rates by 38% and reduced sales cycle time by 47%, says Mark Siciliano, Vice President Sales Productivity, DemandBase
SAN FRANCISCO (PRWEB) March 28, 2019
SalesHood, the all-in-one Sales Enablement Platform, released SalesHood Analytics to help companies measure, visualize, trend, benchmark and correlate sales enablement activity with business outcomes. "Companies today are spending billions of dollars developing sales assets and content to improve onboarding, coaching and selling without clear visibility into the impact their investments are having on sales performance," says Elay Cohen, CEO and Co-founder of SalesHood and former Senior Vice President of Sales Enablement at Salesforce.
"SalesHood Analytics helps us measure and visualize the impact our sales enablement programs are having on business, says Mark Siciliano, Demandbase's Vice President of Sales Productivity. "With SalesHood, our teams have increased win rates by 38% and reduced sales cycle time by 47%."
SalesHood Analytics features:
Dashboards: Visualize the impact of enablement activities and programs with a library of standard enablement dashboards. Show program completion and impact with Enablement Dashboards. Know which content is closing deals and which is not with Content Dashboards for marketers. Visualize engagement and effectiveness charts to see the impact of front-line managers coaching and team development activities.
Report Builder: Become an expert in creating compelling reports with drag and drop metrics, measures and data. Create custom filters and views. Set sales performance averages and benchmarks that easily correlate to sales performance data. See trends visually and compare groups and data sets.
Data Visualization: Create visually rich sales performance summaries based on insights from sales enablement data with powerful visualization tools.
Correlation Analysis: Correlate activity and completion data with sales performance to visualize impact. Correlate and benchmark data by team, segment, geography, program and time periods.
"We're excited to partner with SalesHood to help elevate the sales enablement industry by making actionable data easily available for sales and marketing leaders," says Roman Stanek, CEO of GoodData.
SalesHood Analytics is available to all SalesHood customers.
Additional Information
To learn more about SalesHood Analytics visit:
https://saleshood.com/sales-performance-analytics/
To learn more about the DemandBase customer success story visit:
https://saleshood.com/demandbase-success-story/
Watch the video demonstration here:
https://youtu.be/HnCD_0mQ7Ms
About SalesHood
SalesHood is the leading all-in-one Sales Enablement Platform created to help companies improve sales productivity and revenue outcomes. SalesHood's Sales Enablement Platform helps companies get teams teams on message, with the right coaching and content, at the right time. Engagement is high and proven to impact outcomes. Revenue results are fast. SalesHood's customers are doubling win rates, exceeding quota attainment, and quickly improving time to ramp. Join the SalesHood Community today. For more information about SalesHood and to schedule a demonstration, visit us at https://saleshood.com/