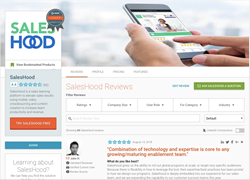 "SalesHood gives us the ability to roll out global programs at scale, or target very specific audiences," John Hsieh, Vice President Global Enablement, Docusign
SAN FRANCISCO (PRWEB) September 19, 2018
SalesHood, the leading enablement and sales productivity platform announces that it has again been identified as one of the leading Sales Enablement platforms based on its high levels of customer satisfaction and likeliness to recommend ratings from real users on G2 Crowd, the world's leading business solutions review website.
"We truly value the feedback from users of our platform and appreciate all that they have done to help us become one of the fastest growing and most respected providers in the sales enablement and sales performance market." Elay Cohen, CEO and cofounder SalesHood
SalesHood achieved leader status on the Fall Sales Enablement rankings by receiving overwhelmingly positive reviews, from verified users compared to similar products in the Sales Enablement and Sales Performance categories.
John Hsieh, Vice President Global Enablement Docusign says, "SalesHood gives us the ability to roll out global programs at scale, or target very specific audiences. Because there is flexibility in how to leverage the tool, their expertise and best practices have been pivotal in how we design our programs. SalesHood is deeply embedded into our experience for our sales team, and we are expanding the capability to our customer success teams this year."
"Rankings on G2 Crowd reports are based on data provided to us by real users," said Michael Fauscette, chief research officer, G2 Crowd. "We are excited to share the achievements of the products ranked on our site because they represent the voice of the user and offer terrific insights to potential buyers around the world."
Learn more about what real users have to say (or leave your own review of SalesHood) on G2 Crowd's SalesHood page!
About SalesHood
SalesHood is a leading enablement platform created to help teams improve sales productivity and revenue results. We help teams learn and share best practices in a modern way through video storytelling and social learning. Engagement is high and proven to impact outcomes. Revenue results are fast. SalesHood's customers are doubling win rates, exceeding quota attainment, and improving time to ramp. Join the SalesHood Community today. For more information about SalesHood and a free trial, visit us at http://www.saleshood.com.
About G2 Crowd
G2 Crowd, the world's leading business solution review platform, leverages more than 381,000 user reviews to drive better purchasing decisions. Business professionals, buyers, investors, and analysts use the site to compare and select the best software and services based on peer reviews and synthesized social data. Every month, more than one million people visit G2 Crowd's site to gain unique insights.
More resources:
Learn More: https://saleshood.com/
SalesHood Manager Coaching Blog: https://saleshood.com/blog/
Learn more about G2 Crowd Reviews of SalesHood