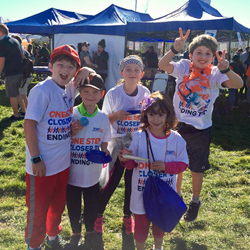 SAN FRANCISCO (PRWEB) October 05, 2018
SalesHood, the industry leading sales enablement platform optimized for high-growth sales organizations, announced sponsorship of the JDRF and the JDRF One Walk on October 21, 2018 in San Francisco. "SalesHood is honored to be able to sponsor the One Walk event - the cure for Type 1 Diabetes can be found, but it needs support from companies like ours and our community. The mission of JDRF is very personal to my family, as my son Jonah was diagnosed with T1D in 2017," says Elay Cohen, Founder and CEO, SalesHood.
You can watch Elay's son Jonah Cohen talk about what living with Type 1 Diabetes is like (Jonah Cohen JDRF YouTube Video) and how it has impacted him and his family personally, but also has inspired him to get involved and raise awareness in the community.
JDRF has one goal: to create a world without type 1 diabetes (T1D). SalesHood employees and family members participating in the JDRF One Walk are proud to know that the money raised supports life–changing breakthroughs that give hope to everyone impacted by this disease. The SalesHood extended team will walk with a committed community that is passionate about doing whatever it takes to help turn Type One into Type None!
Type 1 diabetes is an autoimmune disease that strikes children and adults suddenly. It has nothing to do with diet or lifestyle—and it's serious and stressful to manage. There is nothing you can do to prevent T1D and there is currently no cure. If you are interested in joining SalesHood for the One Walk on Oct 21 please register to walk with us today, or you can donate if you're unable to join us.
Elay Cohen experienced the importance of giving back and community responsibility from Marc Benioff during his time at Salesforce. Salesforce has a 1-1-1 Philanthropic model which has resulted in giving more than $230 million in grants, 3.2 million hours of community service, and provided product donations for more than 37,000 nonprofits and higher education institutions. When Elay started SalesHood he wanted to bring that same spirit of community responsibility along with him, imbuing a culture of philanthropy and community investment.
About SalesHood
We deliver industry leading customer value and revenue growth by helping companies increase sales attainment with our enablement platform and expert community. SalesHood elevates team productivity making coaching and content distribution more efficient. SalesHood brings teams together to share, learn, and celebrate wins efficiently through video storytelling and peer learning. For more information about SalesHood and a free trial, visit us at http://www.saleshood.com.
Learn More About JDRF
JDRF is the leading global organization funding type 1 diabetes (T1D) research. Our strength lies in our exclusive focus and singular influence on the worldwide effort to end T1D.
http://www.jdrf.org/bayarea