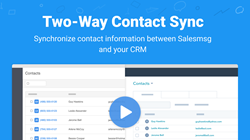 No more exporting or importing contacts from Hubspot, Infusionsoft, ActiveCampaign, or Pipedrive into Salesmsg.
DELRAY BEACH, Fla. (PRWEB) December 11, 2020
Salesmsg, provider of the popular two-way business text messaging platform for sales, marketing, and support professionals, today announced the release of new features that eliminate the need to import contacts from CRM's into the Salesmsg platform, as well as manage contact record field changes in multiple systems.
This new feature increases the speed to value for customers by decreasing the time and required to integrate and import contacts.
"No one ever said, 'I love importing contacts.' Managing spreadsheets is a pain," said Chris Brisson, Founder and CEO of Salesmsg. "So this new feature removed our customer's data admin job and gives them more time to focus on sales, marketing, and support."
How Salesmsg's "CRM Texting" Features (Available Through The Web App, iOS, Android, and Chrome) Works
Contact Search Syncing
Search for a contact in Salesmsg and this new feature searches for a match in the integrated CRM. If a match is found, it links the contact record with Salesmsg's record. If no match is found, it creates a contact and links the record in both systems.
Message Syncing
Send a text or MMS from inside the integrated CRM or Salesmsg and this new feature syncs this and all future messages with the contact's conversation history, in both places. All messages from all contacts are visible in both platforms.
Contact Field Syncing
When a name, telephone, or email address of a contact record is changed, this new feature syncs the changes in all platforms, regardless of which system it was initially made in.
About Salesmsg
Founded on the belief that "conversations are good for business" Salesmsg recognized the response rate of email, phone calls, and voicemail decline, while text messaging increased. It became clear based on how leads and customers wanted to communicate, sales, marketing, and support professionals needed SMS as the better way to connect. Since 2017 Salesmsg has supported these professionals through the development of new CRM integrations and new features that improve lead conversion and sales, decrease appointment no-shows, and the eliminate technical complexity and management of managing multiple platforms.