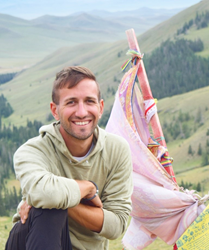 "It's not that travel is my life, but that the world is! Everything that I am, do, and think is global and that's why I'm motivated to see so much of our planet." Sal Lavallo
New York, NY (PRWEB) May 08, 2017
Sal Lavallo, a 26 year old top-tier corporate professional and NYU graduate, has put his career on hold since January 2016 for travel. Now, Lavallo is on his way to earning the title, Youngest American to Visit Every Country. His goal is to achieve this journey by his 27th birthday. Currently, Sal Lavallo has visited 175 out of 193 countries and his travels have been stimulated by a combination of his diverse work, religous faith and his global connections with friends made in his youth at United World College.
The Journey So Far
Born in Indiana, USA, Sal Lavallo was first inspired to become a "global citizen" while attending United World College, a boarding school with over 200 students from 90 different countries. There his mind expanded to better understand the global impact of individual actions.
From United World College, Lavallo attended NYU for his undergraduate degree, where he studied Economic Development and Identity. He also founded Trail of Seeds, an NGO dedicated to Culturally Inclusive Development; the idea that not only economic indicators, but quality of life with community defined metrics, is the true measure of the development.
While attending NYU, Sal Lavallo studied abroad in the Middle East, and spent his summers working in Berlin, Germany, Mumbai, India and writing a research report in East Africa. With Trail of Seeds he led projects in Tanzania, Venezuela, Brazil, Israel and St. Kitts.
After graduating from NYU, Lavallo worked as a management and strategy consultant with McKinsey and Company in the UAE for three years, which enabled him to spend a significant amount of time in countries in the Arabian Gulf and beyond, such as Egypt, Pakistan, Saudi Arabia, Kenya, and New Zealand.
"It's not that travel is my life, but that the world is! Everything that I am, do, and think is global and that's why I'm motivated to see so much of our planet. I want to understand the political, economic and societal structures in place and use that knowledge to personally promote human connectedness and professionally to develop economies", says Sal Lavallo.
Today, Lavallo has taken a hiatus from his professional life, and has solely dedicated himself to the further exploration of the world, visiting each and every one of the world's 193 countries. Sal Lavallo is sharing every step of his record breaking adventure online at SalLavallo.com, and of course can be followed on Instagram.
Currently, Sal is in NYC through June before he sets off to complete his journey.
About Outlier PR
Outlier PR is an internationally focused agency based in New York City, that is dedicated to providing top quality PR services to hotels, tour agencies and lifestyle personalities, among others.