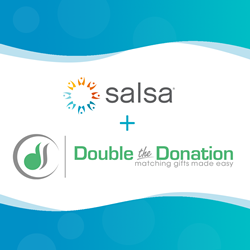 "It is our mission to ensure that every organization using Salsa Labs is raising as much money as possible."
BETHESDA, Md. (PRWEB) June 20, 2019
Salsa Labs is thrilled to announce our new partnership with Double the Donation, the industry leading provider of matching gift tools for nonprofit organizations and educational institutions.
This integration will allow Salsa customers to activate matching gift functionality with the click of a button. 360MatchPro, Double the Donation's most robust matching gift tool, is a fully-automated matching gifts platform.
Salsa Engage users are now able to include Double the Donation's streamlined matching gift search tool as a field on their donation forms. Donors are able to quickly search for their company name in that field, and Salsa records their transaction and employer information.
"We are very excited to offer Salsa customers all of the incredible features included with 360MatchPro," said Donna Myers, CEO of Salsa Labs. "It is our mission to ensure that every organization using Salsa Labs is raising as much money as possible. This integration is easy to activate and immediately starts optimizing an organization's matching gift efforts."
Lack of donor awareness is the biggest hurdle to collecting matching gifts, which results in $4-7 billion in matching gift revenue left unclaimed every year.
If a donor identified their employer using the search field or donated using a corporate email address, they would automatically receive an email that includes their company-specific matching gift information and a link to request a match from their employer. Otherwise, they are sent an email encouraging them to search for their employer's matching gift guidelines.
"We have built these tools to help nonprofits increase matching gift revenue while simultaneously relieving the organization of the effort it takes to run a matching gift program," said Adam Weinger, President of Double the Donation. "We are so excited to have the opportunity to work with Salsa's many clients to do just that."
Whether sent in an email or provided after using Double the Donation's search tool, a donor's company-specific matching gift information is always presented in a simple, easy-to-understand format.
360MatchPro synthesizes all of the organization's matching gift data and presents actionable insights that can be used to enhance their matching gift efforts.
Learn more about Double the Donation at https://doublethedonation.com/ or schedule a private demo of 360MatchPro at https://www.360matchpro.com/demo-request/.
Find out more about Salsa Labs and our all-in-one platform for online fundraising, supporter engagement, event management, and nonprofit CRM at https://www.salsalabs.com/.