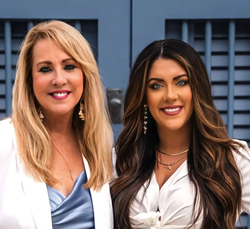 The market is always shifting, and so are we
PANAMA CITY BEACH, Fla. (PRWEB) December 16, 2022
Salty Marlin Realty today announced its partnership with Side, the only real estate technology company that exclusively partners with high-performing agents, teams, and independent brokerages to transform them into market-leading boutique brands and businesses. The alliance will ensure that Salty Marlin Realty, a versatile brand that advocates for building wealth through real estate, is powered by the industry's most advanced platform.
Salty Marlin Realty was co-founded by local top-producing mother-and-daughter duo Trish Wheeler and Taylor Wheeler Sauls. Known for their fierce negotiating skills in a competitive and ever-changing real estate market, Trish and Taylor have generated $30 million in sales in 2022 to date. Trish and Taylor boost their market knowledge with several key certifications, including Certified Luxury Home Marketing Specialist and Military Relocation Professional designations. Salty Marlin Realty, the pair's latest venture, serves buyers and sellers throughout Bay County, including Panama City Beach, and Walton County.
"The market is always shifting, and so are we," Taylor said. "Combined with our decades of experience and top-notch negotiation skills, our use of advanced technology sets us apart from the rest." Trish added, "It's also helpful that our team's skill set includes real estate law and marketing."
Partnering with Side, a technology company, will ensure Salty Marlin Realty remains on the cutting edge of the evolving real estate market while continuing to deliver premium services to its clients. Side works behind the scenes, supporting Salty Marlin Realty with a one-of-a-kind brokerage platform that includes proprietary technology, transaction management, branding and marketing services, public relations, legal support, lead generation, vendor management, infrastructure solutions, and more. Additionally, Salty Marlin Realty will join an exclusive group of Side partners, tapping into an expansive network from coast to coast.
"Along with Side's state-of-the-art marketing, technology, administrative, and legal solutions, its collaborative approach will ensure we build an influential and successful brand that will give back to the community we love," Trish said.
About Salty Marlin Realty
The team at Salty Marlin Realty loves real estate — always has and always will. Proudly local and intensely passionate, the agents stand above the competition for their tenacity and unconventional approach as much as their enthusiasm and motivation to help clients. The goal of its superior service is immediately evident, as it aims to find clients the home they desire while building their wealth. Headquartered in Panama City Beach, Salty Marlin Realty serves buyers and sellers throughout Bay County and Walton County. For more information, visit http://www.saltymarlinrealty.com.