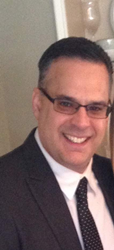 As vice president, Sanft will take on even greater responsibilities across the mem property management residential portfolio and lead innovation and growth for mem's newest business initiatives
RIDGEFIELD PARK, N.J. (PRWEB) April 20, 2021
mem property management, a top-rated New Jersey property management company, recently announced the promotion of Salvatore Sanft to vice president.
Previously, Sanft was responsible for Operations in mem's Ridgefield Park office, responsible for the day-to-day operations of a number of properties in North and Central New Jersey. In that role, Sanft demonstrated success managing and delegating maintenance staff and contractors, property repairs, property maintenance, and owner and board relations.
As vice president, Sanft will take on even greater responsibilities across the mem property management residential portfolio and lead innovation and growth for mem's newest business initiatives, like mem construction services," said Martin H. Laderman, founder and CEO of mem property management, "we are very excited to have Salvatore join our executive team."
Sanft has over twenty years of progressively responsible property management experience, overseeing the daily operations of hundreds of condominiums, townhomes and single -family residences in New Jersey.
Sanft holds the prestigious Certified Manager of Community Associations (CMCA®) designation, an international certification program designed exclusively for managers of homeowner and condominium associations and cooperatives recognizing individuals who have demonstrated the fundamental knowledge required to manage community associations.
"Salvatore is uniquely qualified to serve the residents of our residential properties throughout New Jersey and help mem property management further improve our operations with his years of experience serving the New Jersey residential real estate market," said Laderman.
mem property management continues its pace of industry leading growth without sacrificing its commitment to serving New Jersey communities with the experienced resources and talent of a large property management firm and the personalized touch of a boutique agency.
A longstanding member of the Better Business Bureau (BBB), mem has maintained an A+ rating for its proven record of trustworthiness, ethics and commitment to outstanding client service, receiving numerous awards as a top property management company in New Jersey.
"I am very excited to continue to work with the incredibly talented team of professionals at the best property management company in New Jersey," said Salvatore Sanft, "I look forward to furthering our company's goal -- helping our residents enjoy their home."
About mem property management
mem property management is a privately held NJ property management company that was founded by Martin Laderman with the vision to increase property value through solid, experienced management. Since that time, the company has expanded to manage dozens of properties from its New York border to the New Jersey Shore.
mem property management is privileged to serve some of the finest communities throughout New Jersey including many of the major developers and builders as well as communities as diverse as small ocean-front condominiums to large master-planned communities with several hundred homes to age-restricted retirement communities.
To learn more about mem property management corporation, please visit http://www.memproperty.com/ or call (201) 798.1080.