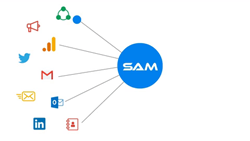 "The Global CRM market size is projected to grow to over $80 Billion in the next 7 years and Social CRM is one of the factors of growth," says Co-founder and CEO of SAM. "The acquisition of IntroNet will allow SAM to leverage soci
NEW YORK (PRWEB) November 15, 2018
The combination of IntroNet and UpVentures investment and expertise will help propel SAM to expand its social CRM capabilities – creating a new and differentiated approach to how businesses acquire, track and maintain sales and customer data through a Customer Relationship Management (CRM) system.
UpVentures partners Martin Babinec and Mike Krupit formed IntroNet in 2014, building intellectual property aimed at connecting people across broadly distributed networks, including filling gaps left open by social network platforms that do not distinguish strength of relationship between individual network participants.
"The Global CRM market size is projected to grow to over $80 Billion in the next 7 years and Social CRM is one of the factors of growth," says Raz Choudhury, Co-founder and CEO of SAM. "The acquisition of IntroNet will allow SAM to leverage social networking talent and technology and further enhance the platform's intent signals and social networking capabilities."
"SAM is in the UpVentures sweet spot of Business to Business Software as a Service (B2B SaaS). We see SAM's advanced approach to social CRM applying across a number of vertical markets where a single platform solution addresses a wide range of needs and can be more easily deployed than existing alternatives" said Martin Babinec, UpVentures Managing Partner.
"We built IntroNet as an AI platform to make it easier for people to share connections, information, and expertise, helping strengthen relationships and develop new ones. Bringing it together with the CRM, sales and marketing tools that SAM offers now creates an unparalleled opportunity for helping B2B organizations and Groups to use insights that help them grow and thrive," says Mike Krupit, who will represent UpVentures on SAM's Board of Directors. "In joining SAM, the IntroNet team brings a wealth of experience in cultivating relationships and developing communities."
About UpVentures Capital
UpVentures Capital is an early-stage investor based in Little Falls, New York.
UpVentures typically invests in Seed to Series A companies in B2B or B2C SaaS, Clean Tech, Healthcare and IoT.
The UpVentures Investor Network includes not only the dozen + fund relationships that UpVentures is active as Limited Partner and/or Advisors, but also hundreds of investor relationships cultivated through ongoing activity with the region wide Upstate Venture Connect network.
About SAM.AI
SAM AI, Inc. is a New York based Software as a Service (SaaS) company. SAM is the first fully integrated sales and marketing platform powered by AI. Organizations in average have to use 16 different tools to run their relationship and outreach activities, this causes a tremendous amount of friction and costs B2B companies 10% of their top-line revenue. SAM solves this problem with a smart, simple, and seamless solution. SAM was founded by enterprise software development and digital marketing veterans to help address the needs of the very businesses that help our economy. These are the growing and mid-sized enterprises that contribute to innovation and jobs in our economy. Our mission at SAM is to help these organizations grow with some of the most advanced technologies available on the planet. To learn more, please visit http://www.sam.ai or follow the company on Twitter @samdotai.