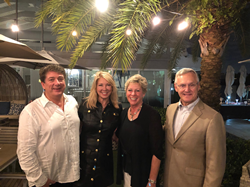 "The scholarship is a great goal to set for students who are just getting started at Youngstown State. Our community takes pride in rewarding our members for their hard work and dedication, and for many, that all starts at YSU."
YOUNGSTOWN, Ohio (PRWEB) April 24, 2020
Sam Boak and his wife Donna, along with other members of the Youngstown State University(YSU) Foundation, hosted YSU President Jim Tressel and First Lady Ellen Tressel for an event in Naples, Florida in late February. The event covered several ideas of continuing support for the university. Sam and his wife, Donna, have committed to supporting the community whenever they can, and a major part of their philanthropic efforts has gone towards contributing to education in the Mahoning Valley, specifically to Youngstown State University. Sam Boak is an alum of the school and has always recognized the importance of supporting his alma mater.
The Boaks have been contributing to Youngstown State University for years, including the scholarship sponsored by Boak & Sons, Inc. This scholarship is awarded to a student-athlete who is a business major with a cumulative grade-point average above a 3.00. The couple continues to work with YSU to promote education and support the students.
"We've always tried to pay it forward," says Sam Boak. "Youngstown State has a huge impact on our community, and I take pride in being able to support the school. Education is an extremely important part of our community, and many of YSU's students, including myself, have benefited greatly from their programs. The scholarship is a great goal to set for students who are just getting started at Youngstown State. Our community takes pride in rewarding our members for their hard work and dedication, and for many, that all starts at YSU."
Sam Boak also wants to remind high school students who are interested in attending Youngstown State University to keep the scholarship in mind when they start their college career. He especially wants to encourage the senior class who had their high school experience cut short by COVID-19 to stay positive and continue working towards their futures.
The most recent recipient of the scholarship for the school year of 2019-2020 was senior volleyball player Aleah Hughes from Berlin Center. Hughes earned a bachelor's degree in accounting in May of 2019 and was a four-letter team captain. She was also class valedictorian and a member of the National Honor Society.
"Aleah is a prime example of the excellence that comes from our community and Youngstown State University," says Sam Boak. "We want to continue supporting students like Aleah and we hope that others are inspired by her incredible work ethic."
For more information about the Boak & Sons scholarship at Youngstown State University or any other endowments in the schools athletic program, visit https://www.ysusports.com/penguin_club/endowments or contact the YSU Athletic Development Office at (330) 941-3211. To learn more about Sam Boak and Boak & Sons, Inc., visit http://www.boakandsons.com.