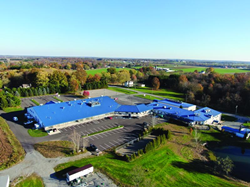 "Angels for Animals is a wonderful organization that Boak & Sons was thrilled to get involved with," said Sam Boak.
YOUNGSTOWN, Ohio (PRWEB) December 29, 2020
Boak & Sons, Inc. is an exterior contracting company based in Youngstown, Ohio specializing in roofing, siding, sheet metal, gutters and insulation. One of the company's strongest attributes is their sheet metal roofing services; a common choice among many commercial businesses in their service region. Recently, Sam Boak announced the completion of the roof of the Angel Wing; a new addition to a local animal shelter called Angels for Animals in Canfield, Ohio.
Angels for Animals was incorporated in 1990 by co-founders Polly Wardle and Diane Less-Baird. The property was originally going to consist of three buildings, totaling 13,500 sq ft. However, with the recent addition of the Angel Wing, the shelter added another 25,000 sq ft. Angels for Animals provides rescue, rehabilitation, adoption, neuter/spay, and many other services to dogs and cats in need. As an animal lover, Sam Boak was thrilled to take on the Angel Wing project to support the growth of the shelter.
"Angels for Animals is a wonderful organization that Boak & Sons was thrilled to get involved with," said Sam Boak. "We knew our Snap Seam metal roof panels would not only look beautiful on such a large surface area, but would also provide lasting, quality protection for the animals as well as the people who work and volunteer in the facility."
The new wing boasts a beautiful lobby and reception area with eight exam rooms, separate dog and cat waiting areas and x-ray, general surgery and many other vital services to assist pet owners and help support the animals who call the shelter home. Boak & Sons installed thousands of metal roof panels in their signature blue color, the very same color they have on their own roof in Austintown. They also installed metal decking, soffit and panel metal siding.
Boak & Sons fabricates, measures, cuts and installs all of their sheet metal products right from their headquarters in Austintown. It is their most popular request from many commercial businesses, providing decades of low-maintenance, cost-effective protection. The company also provides their Roof Asset Management program, or RAM, which includes inspection services along with a 24/7 accessible report of any past repair, maintenance and financial contracts and documents. Customers can log in and request maintenance at any time which is automatically sent to the project managers of the Commercial Roofing Department to dispatch a service crew.
For more information about Angels for Animals and the new Angel Wing, visit http://www.angelsforanimals.org/. For more information about Sam Boak and Boak & Sons, Inc., visit http://www.boakandsons.com or call 330-793-5646.
About Boak & Sons:
Boak & Sons, Inc. was founded by Sam Boak in 1974 as an insulation contractor. With the high energy costs of the 70's, Boak & Sons expanded early on into the roofing business. They offered economical roof installations through cutting edge technology and equipment, allowing customers to recoup even more in energy savings. Today, Boak & Sons is a residential and commercial contractor for roofing, insulation, sheet metal, siding, and gutters. Based in Youngstown, Ohio, the company serves customers in surrounding areas from Cleveland, Akron, and Canton to Cranberry and Pittsburgh. For more information on Boak & Sons, visit their website at: https://www.boakandsons.com/