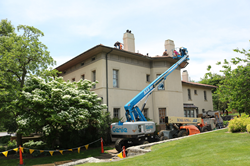 "We invest in our employees with continuous training so they all have the opportunity to grow and advance their career." - Sam Boak, president & founder, Boak & Sons, Inc.
YOUNGSTOWN, Ohio (PRWEB) July 10, 2020
After the COVID-19 pandemic caused Boak & Sons to close their doors for nearly a month, Sam Boak reopened those doors with a positive attitude. When he saw his employees eager to get back to work, he decided to reward them by helping them climb that ladder of success during the start of the summer season. The company reopened their doors in full swing in May, and has been working twice as hard to keep their customers well taken care of.
When most people hear the term "climbing the success ladder," they think of a person working their way up in a business. That person may start at an entry-level position and work their way up to a senior one with years of hard work and hustle. At Boak & Sons, climbing the success ladder might seem much more literal since it typically involves actually climbing ladders, but there is much more to it.
Boak & Sons, Inc. is a residential and commercial exterior contracting company based in Youngstown, Ohio. The contracting company specializes in roofing, siding, gutters, sheet metal and insulation and serves customers from Cleveland to Pittsburgh. Boak does jobs that range from small repairs to full replacements and new installations.
Each department has a crew complete with a project manager who gives the initial estimate, a foreman and a handful of general laborers. No matter what position you start in when you join the company, which can vary depending on experience, there is room for growth or "climbing the ladder" at Boak & Sons.
"What many people don't realize is you can climb the success ladder in any job, not just a corporate business setting," said Chris White, vice president operations at Boak & Sons, Inc. "We encourage young adults who are exploring career options after high school to look into the skilled trades industry as much as we encourage older adults who may be looking to take a different career path to consider our field. It doesn't take long to climb the ladder here at Boak & Sons as long as you're willing to work hard and continue to develop your skills."
President and Founder of Boak & Sons, Inc., Sam Boak, started the business when he was in high school as a small insulation company. Realizing the need for expansion into other departments, the company quickly grew into what it is today. Boak & Sons has residential and commercial departments for each service area, but there are also many behind the scenes positions that keep the business running. The company has its own mechanics shop and team, as well as a warehouse crew that handles all of the equipment and supply orders. There is also the office staff that handle everything from billing, contracts and scheduling to marketing, payroll and safety regulations.
Sam Boak climbed the success ladder in his business through hard work and giving back to his community, but also by creating lasting relationships with his customers, coworkers and suppliers.
"You don't just climb that ladder by clocking in at 9 and out at 5," said Sam Boak. "The employees here at Boak & Sons work their way up quickly because they know what it takes to be successful. I have two simple rules that we follow here; 1. Safety is always first and 2. Never ever EVER cut a corner. We invest in our employees with continuous training so they all have the opportunity to grow and advance their career. There's a reason a majority of our employees stay here for decades."
To learn more about Boak & Sons, Inc., visit http://www.boakandsons.com. If you're interested in a career opportunity with the company, call 330-793-5646.
About Boak & Sons:
Boak & Sons, Inc. was founded by Sam Boak in 1974 as an insulation contractor. With the high energy costs of the 70's, Boak & Sons expanded early on into the roofing business. They offered economical roof installations through cutting edge technology and equipment, allowing customers to recoup even more in energy savings. Today, Boak & Sons is a residential and commercial contractor for roofing, insulation, sheet metal, siding, and gutters. Based in Youngstown, Ohio, the company serves customers in surrounding areas from Cleveland, Akron, and Canton to Cranberry and Pittsburgh. For more information on Boak & Sons, visit their website at: https://www.boakandsons.com/.