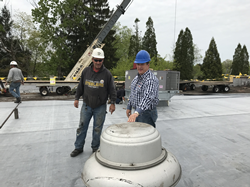 "Now more than ever, it's important to show high school students career options that don't require a college degree. Ohio has a severe need to fill skilled trade positions. By recognizing that need, we can help people find a successful career path by filling those positions."
YOUNGSTOWN, Ohio (PRWEB) May 06, 2020
National Skilled Trades Day was started in Youngstown Ohio by a company called City Machine Technologies (CMT). CMT serves many large industrial manufacturing companies with services such as electric machinery, industrial machining, crane breaks and more. The holiday was first recognized in May of 2019 by the Registrar to increase awareness about skilled trade jobs in the United States. It is now observed annually on the first Wednesday of May. This year, Sam Boak is commemorating National Skilled Trades Day and sharing his advice and thoughts on the impact of the skilled trades industry.
Sam Boak is the President and Founder of Boak & Sons, Inc.; a residential and commercial contracting company that specializes in roofing, siding, gutters, sheet metal and insulation. Sam Boak started the company in 1974 as an insulation company and over the years, he expanded the business to cover the multiple service areas it is known for today. The majority of employees are specialized in the skilled trades industry and Sam Boak prides himself in hiring the best quality tradespeople.
"Recognizing National Skilled Trades Day is important to me because it's another way to thank the incredible Boak & Sons employees for what they do," said Sam Boak. "The skilled trade industry is vital to our economy and deserves to be recognized and appreciated and the next generation needs to be aware of the incredible opportunities the trades industry offers them."
Recently, Sam Boak decided to lay off his employees for four weeks due to the COVID-19 pandemic. Although it was a hard decision to make, his employees' safety was his first concern. Now that his employees are back to work, Sam Boak is emphasizing his appreciation for his employees and encouraging high school students to consider the skilled trade industry.
"Paying for college was already expensive before the COVID-19 pandemic, and we still don't know how the virus will impact education in the future," said Sam Boak. "Now more than ever, it's important to show high school students career options that don't require a college degree. Ohio has a severe need to fill skilled trade positions. By recognizing that need, we can help people find a successful career path by filling those positions."
Sam Boak is a strong supporter of education, especially in Mahoning Valley where his business is based. He even endowed a scholarship through Boak & Sons at Youngstown State University for student athletes who are studying business. However, Sam Boak's business is run by the men and women in the skilled trades industry and he strongly encourages students and adults to look into a career in one of those fields. He also reminds people to explore the trades industry as a career path before they bury themselves in college debt.
For more information about Sam Boak and Boak & Sons, visit http://www.boakandsons.com.