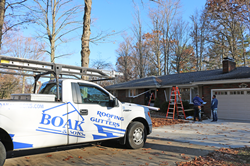 "Using that (tax return) money to fund a project, such as new siding or a roof repair, will pay for itself in value. You are not only increasing the value of your property, but you could also be lowering future expenses, such as your heating and cooling costs."
YOUNGSTOWN, Ohio (PRWEB) February 25, 2020
As tax season approaches, Sam Boak, president and founder of Boak & Sons, Inc. is encouraging both customers and employees to invest their tax returns back into their properties. Boak & Sons is a residential and commercial exterior contracting company in Youngstown, Ohio, specializing in the installation and repair of gutters, roofing, insulation and sheet metal.
Sam Boak has been a long time investor, with multiple real-estate properties that he maintains and oversees. He continuously encourages his employees to come to him for financial counseling when needed, and with tax season around the corner, he hopes to have a positive influence on both his employees and customers by helping to show them how to wisely invest their returns into improvements on their homes and commercial buildings.
"There are multiple opportunities available to home owners and building managers to put their tax returns towards improving the value of their properties," says Boak. "Using that money to fund a project, such as new siding or a roof repair, will pay for itself in value. You are not only increasing the value of your property, but you could also be lowering future expenses, such as your heating and cooling costs."
According to the Business Insider, the average tax return in the state of Ohio in 2018 totaled $2,300 to $2,600 and in Pennsylvania the average was $2,601 to $2,900. To see a full list of average returns by state, visit https://www.businessinsider.com/tax-refund-average-by-state-2018-1. Ohio and Pennsylvania fall under Boak & Sons' service area, but Boak says this advice is valuable to anyone, whether they are a Boak & Sons customer or not. Boak also says that amount of money can make a huge difference in the cost of a home or commercial exterior contracting project.
"Tax season is always one of our busiest times of the year because the weather starts getting warmer and we're able to get back out to our job sites that we might not have been able to access in the winter season," said Boak. "The lump sum many people receive during this time of year can be extremely beneficial to help take care of any exterior contracting projects that might have been pushed to the back burner."
Chris White, vice president of operations at Boak & Sons says that Sam Boak is a valuable resource for financial advice for the company.
"Sam has always been extremely knowledgeable in investing and our company's employees, including myself, really benefit from that knowledge," said White. "We hope that our customers also take advantage of the advice Sam is giving and will use their tax returns to make needed upgrades to their properties that they may have been putting off."
For more information about Sam Boak or Boak & Sons, Inc., visit http://www.boakandsons.com or call their office at 330-793-5646.
About Boak & Sons:
Boak & Sons, Inc. was founded by Sam Boak in 1974 as an insulation contractor. With the high energy costs of the 70's, Boak & Sons expanded early on into the roofing business. They offered economical roof installations through cutting edge technology and equipment, allowing customers to recoup even more in energy savings. Today, Boak & Sons is a residential and commercial contractor for roofing, insulation, sheet metal, siding, and gutters. Based in Youngstown, Ohio, the company serves customers in surrounding areas from Cleveland, Akron, and Canton to Cranberry and Pittsburgh. For more information on Boak & Sons, visit their website at: https://www.boakandsons.com/.