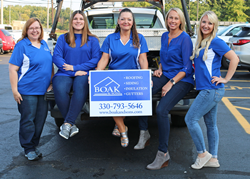 "Not one person in this office or in the field could do this job alone, it takes a team."
YOUNGSTOWN, Ohio (PRWEB) October 06, 2020
The COVID-19 pandemic caused Sam Boak to temporarily close his doors and send employees home. Sam Boak is the president and founder of Boak & Sons, Inc., a residential and commercial exterior contracting company based in Youngstown, Ohio. During the peak of the pandemic, Sam Boak put the safety of his employees first, even though he could've stayed open as an 'essential business.'
Once the company reopened, Boak & Sons received a booming increase in business. So much that Sam Boak needed to grow his administrative staff. The company welcomed five new hires to the team in the late summer of this year; Mary Kay Wilburn, Karen Yoho, Robin Bishop, Rachel Hall and Cristine Kirby.
Mary Kay, the first of the new hires, was brought onto Boak's team as an accountant dealing with everything from billing to payroll and much more. Rachel is now on the insulation team, handling scheduling and billing for their incredibly busy insulation department. Yoho and Kirby were both hired as Contract Administrators, helping to oversee the contracting, project documentation, billing and other administrative functions. The newest hire, Robin, was hired in the marketing and business development in the Commercial Roofing and Architectural Metal Sheet Division. The office now consists of 25 employees who handle everything from marketing and accounting to project management and administration.
"We've been incredibly blessed throughout such a tough year to be able to continue growing," said Sam Boak. "Even with the pandemic, we've been able to keep our employees extremely busy. I'm proud to see them working so hard to support each other and the company as a whole, and I know our new hires will help continue those efforts."
Boak & Sons has several departments in their office that oversee both the commercial and residential projects from start to finish. The business relies heavily on teamwork and communication.
"This isn't an easy job in any department," said Chris White, vice president of operations at Boak & Sons, Inc. "Not only do you have to be able to multi-task efficiently, you have to be a team player. Not one person in this office or in the field could do this job alone, it takes a team. We're excited and blessed to be able to continue growing the Boak family."
To learn more about Boak & Sons, Inc., visit http://www.boakandsons.com.
# # #
About Boak & Sons:
Boak & Sons, Inc. was founded by Sam Boak in 1974 as an insulation contractor. With the high energy costs of the 70's, Boak & Sons expanded early on into the roofing business. They offered economical roof installations through cutting edge technology and equipment, allowing customers to recoup even more in energy savings. Today, Boak & Sons is a residential and commercial contractor for roofing, insulation, sheet metal, siding, and gutters. Based in Youngstown, Ohio, the company serves customers in surrounding areas from Cleveland, Akron, and Canton to Cranberry and Pittsburgh. For more information on Boak & Sons, visit their website at: https://www.boakandsons.com/