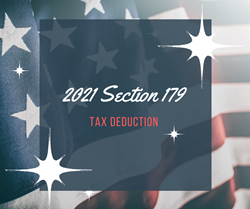 Pat Finn, Boak & Sons CFO, says "business owners should speak with their tax advisors, as this tax deduction could benefit them greatly by reducing their tax liability."
YOUNGSTOWN, Ohio (PRWEB) April 27, 2021
Commercial building owners and managers have probably already heard the update on a change made to the Section 179 Deduction under the Tax Cuts and Jobs Act, but Sam Boak wants to make sure to spread the word. Boak & Sons is a residential and commercial exterior contracting company that specializes in roofing, siding, gutters, sheet metal and insulation. As President and Founder of Boak & Sons, Inc., Sam Boak is consistently keeping up to date with the latest changes that affect his customers and friends in the business community. "It's important they are aware of the different ways they can find financial relief, especially with the current state of the pandemic. Section 179 is one of those ways," says Sam Boak.
The change to Section 179 increased the amount of money that a taxpayer can deduct from their income and reduce their liability. Previously, the cost of the property was required to be capitalized and depreciated. Section 197 allows the building owner to deduct the full price of a business purchase on your taxes of the same calendar year, as long as the purchase qualifies under Section 179. Pat Finn, Boak & Sons CFO, says "business owners should speak with their tax advisors, as this tax deduction could benefit them greatly by reducing their tax liability." To qualify, the purchase must include business supplies, upgrades, improvements, and/or property purchased in the same calendar year. This can include improvements to a building's roof, equipment for business use, business vehicles, office equipment, etc.
Although Section 179 covers many business expenses, the new update allows owners to use the tax deduction for roofing repairs, waterproofing and full roof replacements on existing structures. This means you can write off your bill from the contractor as a tax deduction. The dollar limitation on these projects for 2021 is up to $1,050,000 and to qualify, the purchase must be put into use during the same calendar year.
To learn more about the changes to the Section 179 deduction, visit https://www.section179.org/section_179_deduction/. You can also call Sam Boak at 330-793-5646 to discuss this change or to speak to him about his commercial roofing services. To learn more about Boak & Sons, visit http://www.boakandsons.com.