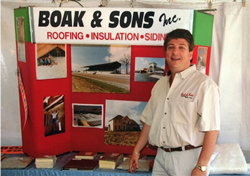 "I'm thankful for the Board's decision to keep our community safe and my heart goes out to the other businesses who will be affected by the cancellation." - Sam Boak
YOUNGSTOWN, Ohio (PRWEB) August 31, 2020
The Canfield Fair announced on Tuesday, July 7th that the 2020 season would be cancelled and limited to a Junior Fair only. Following the guidelines from Ohio Governor Mike Dewine, the Canfield Fair Board heartbreakingly realized it would be impossible to adequately follow social distancing and other safety requirements to protect visitors from the COVID-19 virus. Sam Boak, president and founder of Boak & Sons, was heartbroken but understanding of the decision.
Boak & Sons, Inc. is a residential and commercial exterior contracting company based in Youngstown, Ohio and serving customers from Cleveland, Ohio to Pittsburgh, Pennsylvania. Boak & Sons has been an active participant in the Canfield Fair for decades, with a booth set up every season.
"The Canfield Fair wasn't just a sales opportunity for Boak & Sons," said Sam Boak. "It was a weekend full of laughs, hugs and handshakes with our friends, customers and partners. We fully understand the Canfield Fair Board's decision to cancel the fair because at the end of the day, safety comes first. However, it is heartbreaking to know that for the first time in so many years, we won't be participating in such a cherished tradition in our community."
The Canfield Fair would have celebrated its 174th season this year. It is a staple of the state of Ohio as the largest county fair in the state and the 3rd largest in the country. It was established in 1846 and has continued to grow into one of the most popular events in the state. The grandstand alone holds over 6,000 people, and the entire grounds covers 353 acres of land. With such a large crowd in attendance every year, the Board members had to put the safety of the community over the decision to keep the fair open.
"The fair is a focal point of this community," said Sam Boak. "While everyone is understanding of the situation, it's hard to ignore the financial impact this could have on several businesses. I'm thankful for the Board's decision to keep our community safe and my heart goes out to the other businesses who will be affected by the cancellation."
The Canfield Fair has announced its plans for their 175th season in September of 2021, with the intent to make it their biggest and best year yet. For more information about the Canfield Fair, visit http://www.canfieldfair.com. To learn more about Boak & Sons, visit http://www.boakandsons.com.
# # #
About Boak & Sons:
Boak & Sons, Inc. was founded by Sam Boak in 1974 as an insulation contractor. With the high energy costs of the 70's, Boak & Sons expanded early on into the roofing business. They offered economical roof installations through cutting edge technology and equipment, allowing customers to recoup even more in energy savings. Today, Boak & Sons is a residential and commercial contractor for roofing, insulation, sheet metal, siding, and gutters. Based in Youngstown, Ohio, the company serves customers in surrounding areas from Cleveland, Akron, and Canton to Cranberry and Pittsburgh. For more information on Boak & Sons, visit their website at: https://www.boakandsons.com/