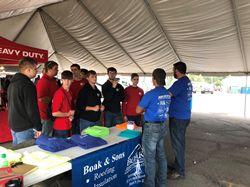 "I want students to be more aware of all their options after high school instead of being pushed so hard towards earning an expensive college degree." - Sam Boak
YOUNGSTOWN, Ohio (PRWEB) July 31, 2020
Sam Boak is the president and founder of Boak & Sons, Inc., a residential and commercial exterior contracting company based in Youngstown, Ohio. The company employs over 180 men and women across multiple departments, including roofing, siding, insulation, sheet metal and several office administration positions. After spending over 45 years in business in the Mahoning Valley area, Sam Boak has decided that during the new 2020 school year he will spend more time trying to encourage more local high schools to expose students to skilled trade school options after graduation. This will include more involvement in high school career fairs, trade shows and a greater involvement in career events at local high schools.
"I will always support education in the valley," said Sam Boak. "We've done multiple sponsorships for local universities. However, college isn't for everyone. I want students to be more aware of all their options after high school instead of being pushed so hard towards earning an expensive college degree."
In the state of Ohio, the average annual cost for one year of college tuition for the 2018-2019 academic year was just over $15,600 according to CollegeCalc.org. Most degrees take anywhere from 2-4 years to complete if a student stays on the same path throughout their college career, leaving students with anywhere from $30,000 to $62,000 in student loan debt after graduation. Degrees can often be earned in half the time and for less than half the cost if a student goes to a skilled trade school. The entire country has over 3 million open trade jobs according to the Mahoning Valley Skilled Trades organization.
"When we attend local high school career fairs, the vast majority of them don't have a clue what their options are outside of college," said Chris White, vice president of operations at Boak & Sons, Inc. "We spend most of the time explaining how beneficial the skilled trade route can be and many of them are eager to learn more about it. However, we only attend a couple of these a year and we're just one company. We're going to keep educating high school students on their options after graduation and continue to spread the word, but we're also going to encourage high schools and other companies to do the same."
Sam Boak encourages students to reach out to Boak & Sons, Inc. if they have questions about the skilled trade industry. The company can be reached through their website at http://www.boakandsons.com or by calling 330-793-5646. Sam Boak also encourages them to contact the Mahoning Valley Skilled Trades organization for information on jobs and schools open in this field. They can be reached at mvskilledtrades.com.
About Boak & Sons:
Boak & Sons, Inc. was founded by Sam Boak in 1974 as an insulation contractor. With the high energy costs of the 70's, Boak & Sons expanded early on into the roofing business. They offered economical roof installations through cutting edge technology and equipment, allowing customers to recoup even more in energy savings. Today, Boak & Sons is a residential and commercial contractor for roofing, insulation, sheet metal, siding, and gutters. Based in Youngstown, Ohio, the company serves customers in surrounding areas from Cleveland, Akron, and Canton to Cranberry and Pittsburgh. For more information on Boak & Sons, visit their website at: https://www.boakandsons.com/