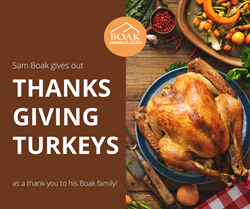 "During these trying times, giving back is even more important," says Boak. "Every year I do this, I hope other people and employers will read about it and want to do something kind for others as well."
AUSTINTOWN, Ohio (PRWEB) November 16, 2021
Sam Boak, president and founder of Boak & Sons, Inc. is well known for giving back to the community and his employees whenever he can. Once again, Sam is showing his appreciation for his employees' dedication to safety by providing each member of his exterior contracting company with a Honey Suckle Thanksgiving turkey.
Boak & Sons, Inc. is a commercial and residential exterior contracting company located in Youngstown, Ohio. The roofing, gutter, siding, sheet metal and insulation contractor services areas as far as Canton and Akron, Ohio to Beaver and Cranberry, Pennsylvania. This company's number one rule is safety. Each year, Sam Boak purchases turkeys for the entire staff as a special way to thank them for putting safety first in their work.
"The employees of Boak & Sons are my family," says Boak. "Safety is our number one rule. Many of my employees have families that rely on them to come home safe every day, and it's my responsibility to make that happen. The turkeys are my way of thanking them for their dedication to making Boak & Sons a safe workplace."
The turkeys Boak supplies are 18–20-pound, Honey Suckle turkeys. There are over 160 employees working at Boak & Sons currently, and no one is left out. Many employees also asked to take two turkeys so they could give one to a neighbor or friend in need, and Boak was more than happy to hand them out.
On top of providing for his employees, Boak also ensures that not a single turkey goes to waste. If there are leftover turkeys, Boak has them donated to local organizations that either feed them to people in need or he donates them to other families. Last year, over 20 turkeys were donated to local organizations such as Warming Warren and the Lord's Blessing Food Pantry.
"During these trying times, giving back is even more important," says Boak. "Every year I do this, I hope other people and employers will read about it and want to do something kind for others as well."
For more information about the exterior contracting services at Boak & Sons, Inc., visit http://www.boakandsons.com.
About Boak & Sons:
Boak & Sons, Inc. was founded by Sam Boak in 1974 as an insulation contractor. With the high energy costs of the 70's, Boak & Sons expanded early on into the roofing business. They offered economical roof installations through cutting edge technology and equipment, allowing customers to recoup even more in energy savings. Today, Boak & Sons is a residential and commercial contractor for roofing, insulation, sheet metal, siding, and gutters. Based in Youngstown, Ohio, the company serves customers in surrounding areas from Cleveland, Akron, and Canton to Cranberry and Pittsburgh. For more information on Boak & Sons, visit their website at: https://www.boakandsons.com/