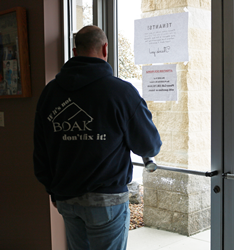 "As an employer, it is my responsibility to make sure my employees get home safely to their loved ones. With this virus spreading so quickly, my decision to send my employees home was one that I would make ten times over again."
YOUNGSTOWN, Ohio (PRWEB) April 03, 2020
With the world on edge over the recent COVID-19 outbreak, many companies are closing their doors and keeping as many people at home as possible. For Sam Boak, president and founder of Boak & Sons, Inc., his business relies heavily on his employees. Boak & Sons, Inc. is a residential and commercial exterior contracting company based in Youngstown, Ohio that services customers from Cleveland to Pittsburgh, Pennsylvania. With the current status of the nation, Sam Boak is cutting no corners when it comes to the safety of his employees and their customers by laying off the majority of his employees for their safety.
Boak & Sons is operated from a large warehouse with several in-house offices. To ensure the safety of his employees, Boak hired a professional disinfection company to fog and thoroughly disinfect the entire building on multiple occasions. The cleaning company thoroughly sanitized the entire building with special emphasis on doorknobs, phones and even the trucks used by the field employees. Boak also has made sure office employees are not in close proximity to each other by sending any at-risk employees to work from home and keeping any in-house employees in separate offices or at extended distances.
However, it didn't take long for COVID-19 to progress and Ohio Governor Mike Dewine announced the closure of all non-essential businesses on March 23. While construction was listed as an essential business that could continue operations, Sam Boak put his employees' safety above the company's success and kept them home.
"To do our job, we work with people in their homes and at their businesses," says Boak. "As an employer, it is my responsibility to make sure my employees get home safely to their loved ones. With this virus spreading so quickly, my decision to send my employees home was one that I would make ten times over again."
Boak & Sons offers many residential and commercial contracting services, including roofing, siding, gutters, sheet metal and insulation. Each of these services requires the crews visiting job sites to complete their work. Boak said there are still a scarce number of employees in the office to keep communication going with customers, as well as helping to handle any emergency situations that arise.
"Safety is our first and utmost concern," said Chris White, vice president of operations at Boak & Sons. "We will continue to serve our customers as much as we can, but we will not risk the safety of those customers or that of my coworkers. At such a tense time in our community, it shows great courage and professionalism to make the decision to send so many home. Sam has done an incredible job of making everyone feel more at ease during such a difficult time."
White also explained that the company is taking the necessary measures to sanitize the office for those who are still coming in. Sam has had the building professionally fogged and sanitized on the weekends, and each employee is keeping well over a 6-foot distance as advised by the CDC and Governor Dewine. Gloves and hand sanitizer have also been made readily available for all employees.
"We want to take care of those in our community that have significant needs or emergencies, but the health and well-being of our customers and employees comes first," says Boak. "We encourage anyone with concerns or questions to contact us at any time. In the meantime, follow the instructions given by the CDC and take care of yourselves and your families. Together, our community and our nation can overcome this pandemic."
Sam Boak recently published a video to announce the decision to lay off his employees, which you can view here: https://youtu.be/sGRAcJufC-0. To learn more about Sam Boak and Boak & Sons, visit http://www.boakandsons.com.
About Boak & Sons:
Boak & Sons, Inc. was founded by Sam Boak in 1974 as an insulation contractor. With the high energy costs of the 70's, Boak & Sons expanded early on into the roofing business. They offered economical roof installations through cutting edge technology and equipment, allowing customers to recoup even more in energy savings. Today, Boak & Sons is a residential and commercial contractor for roofing, insulation, sheet metal, siding, and gutters. Based in Youngstown, Ohio, the company serves customers in surrounding areas from Cleveland, Akron, and Canton to Cranberry and Pittsburgh. For more information on Boak & Sons, visit their website at: https://www.boakandsons.com/