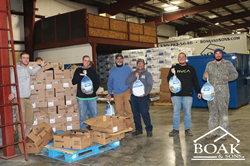 "We have over 160 people working here, and each of them knows at least one person or family in need. That means over 160 families will be getting a large turkey to serve to their families this Thanksgiving on top of our own families, and that's what it's all about." - Sam Boak
YOUNGSTOWN, Ohio (PRWEB) November 24, 2020
Sam Boak is the president and founder of Boak & Sons, Inc, a residential and commercial exterior contracting company in Youngstown, Ohio. The company's services focus on roofing, siding, gutters, insulation and sheet metal, but community involvement is also high on their list of priorities. Every year, Sam Boak awards his employees for their safety on jobsites by giving them a Thanksgiving turkey for them to take home. Sam Boak is continuing the tradition this year, but with an added twist.
Instead of just one Honey Suckle Thanksgiving turkey, employees will be receiving two; one for their family and one to donate to a family or organization in need. The idea came to Sam Boak as he was evaluating their progress through the COVID-19 pandemic and how it has effected not only his business, but the community as a whole.
"The pandemic has taken a toll on all of us," said Sam Boak. "Even after offering assistance to my own employees while we were shut down for six weeks, I knew there were others who were struggling. We've been so blessed to get back on our feet quickly, which allows us to do our part in giving back to the community. Typically we give each of our employees a single turkey to take home to their families, but this year I wanted to get each member of the Boak & Sons family involved in giving back. This year, employees will receive two turkeys each; one for themselves and one to give to a family in need. This gives us all an opportunity to represent what Boak & Sons is all about, and that's supporting our community, spreading kindness and helping others in times of need."
Boak & Sons continued to receive support from customers throughout the pandemic shutdown. When they reopened, they were extremely busy. This created a need for growth both in the field and the office, adding more members to the Boak family. Sam Boak expressed how grateful he was for the community's continued support, which is part of why he decided to order the extra turkeys.
"We've donated turkeys to local organizations in years past, which we still plan to do," said Sam Boak. "However, we wanted our employees to get involved in giving back. We have over 160 people working here, and each of them knows at least one person or family in need. That means over 160 families will be getting a large turkey to serve to their families this Thanksgiving on top of our own families, and that's what it's all about."
To learn more about Boak & Sons, Inc., visit http://www.boakandsons.com.